Colorado's Judge Carparelli to Lead American Judicature Society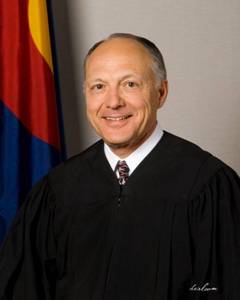 IAALS is thrilled by the news that Judge Russell Carparelli of the Colorado Court of Appeals will take the helm at the American Judicature Society (AJS) as of January 1, 2014. New leadership of AJS is one of the changes that is accompanying the organization's recent move from Drake University in Des Moines, Iowa, to Vanderbilt Law School in Nashville, Tennessee.
AJS is an independent, nonpartisan, membership organization that works to protect the integrity of the American justice system. IAALS has partnered with AJS on a handful of projects, including Judicial Selection in the States: How It Works, Why It Matters, and we look forward to strengthening our collaborative relationship under Judge Carparelli.
We at IAALS believe that Judge Carparelli is uniquely qualified to serve as executive director of AJS, which has been active in promoting justice system reforms for the last 100 years. He is a nationally recognized leader in promoting public education about the judiciary and is one of the co-founders of Our Courts Colorado, an ABA award-winning effort that provides nonpartisan information programs to adult audiences around the state to further public knowledge and understanding of the state and federal courts in Colorado. Our Courts Colorado served as the model for a new national initiative, Our Courts America, on whose working group Judge Carparelli serves. He also served on the committee that made possible the state-of-the art Colorado Judicial Learning Center at the new Ralph L. Carr Colorado Judicial Center.
Judge Carparelli is a friend of IAALS in both the professional and personal sense. He is an active and invaluable participant in our Educating Tomorrow's Lawyers conferences, and the staff of our Quality Judges Initiative regularly seek his advice and expertise in our efforts to ensure impartiality and accountability in choosing, evaluating, and retaining judges.
Colorado's courts are losing a distinguished jurist, but IAALS is maintaining a committed ally in its efforts to improve the process and culture of the civil justice system.