Conference of Chief Justices Takes Important Step Toward Civil Justice Improvement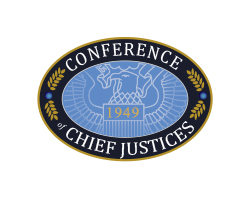 The Conference of Chief Justices (CCJ) has established a new committee that will evaluate civil justice improvement efforts around the country and develop guidelines and best practices for civil litigation, as well as case-flow management. The recommendations will draw upon lessons learned from the pilot project and rule reform efforts, as well as applicable research, with the goal of sharing outcomes and achieving widespread impact following this period of experimentation.
The National Center for State Courts (NCSC) has also undertaken a research project to document the landscape of civil litigation procedures in the states to inform the committee's work. The committee, chaired by Chief Justice Thomas Balmer of the Supreme Court of Oregon, will begin its work in May, and will ultimately present its recommendations to the CCJ, in accordance with the CCJ Resolution 5, which was adopted in January, 2013.
IAALS looks forward to working alongside NCSC to support the efforts of the committee over the next year and a half.