Courts, Judges, and the 2014 Elections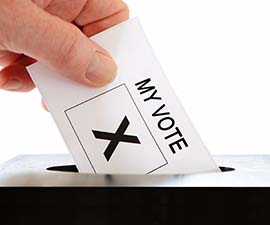 Here's an overview of 2014 election outcomes that impacted state courts and judges.
Ballot Measures
Tennessee voters approved Amendment 2, which establishes a modified federal selection process—gubernatorial appointment with senate confirmation and periodic retention elections—for the state's appellate judges.
Voters in Florida rejected Amendment 3, which would have allowed an outgoing governor to make "prospective" judicial appointments—to replace judges whose terms are ending at the same time.
After narrowly rejecting a similar measure in 2010, Nevada voters approved a constitutional amendment creating an intermediate appellate court.
In Hawaii, voters approved a proposed constitutional amendment that requires the judicial nominating commission to make public the names of all nominees submitted to the governor (or chief justice for district court judgeships) for possible appointment. (The commission has done this on its own initiative since 2011.) However, voters rejected a proposed constitutional amendment that would have raised the judicial retirement age from 70 to 80.
Louisiana voters rejected a proposed constitutional amendment that would have eliminated the state's mandatory retirement age for judges of 70.
Contestable Elections
Eight states saw contestable elections for supreme court justices, with all incumbents on the ballot keeping their seats.
According to Justice at Stake and the Brennan Center for Justice, TV ad spending by candidates, political parties, and outside groups in the 2014 elections totaled more than $13.8 million, with outside groups accounting for $4.9 million. Read more here.
The Michigan Republican Party was the single largest TV ad spender, at $3.2 million. (Judicial elections in Michigan are nonpartisan by law.) TV spending records were set in Montana and North Carolina.
Retention Elections
Supreme court justices stood for retention in 14 states. All were retained, though justices in Illinois and Kansas withstood late challenges.
Illinois and Tennessee (in August) broke state records for TV ad spending in retention elections.
Voters ousted trial court judges in Arizona, Colorado, and New Mexico who had received negative retention recommendations from their states' judicial performance evaluation commissions. Another New Mexico trial court judge lost his retention bid despite a "Retain" recommendation.