Courts, Judges, and the 2016 Elections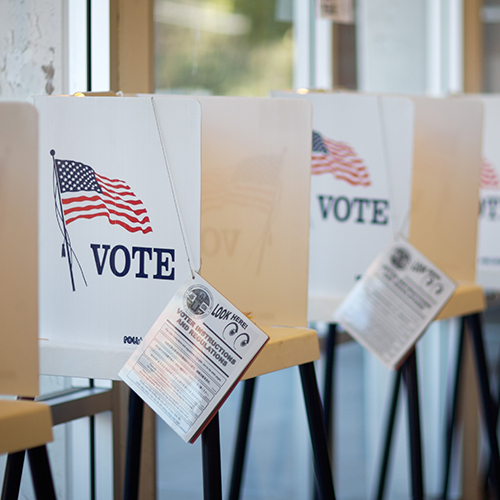 Here's an overview of 2016 election outcomes that impacted state courts and judges.
Ballot Measures
Georgia voters approved Amendment 3, which abolishes the Judicial Qualifications Commission (the disciplinary entity for the state's judges) and allows the legislature to recreate it.
Mandatory retirement ages for judges were on the ballot in two states. Oregon voters opted not to repeal that state's mandatory retirement age of 75, while Pennsylvania voters narrowly approved increasing the retirement age from 70 to 75.
Retention Elections
Supreme court justices stood for retention in 12 states. All were retained, though the margins of victory for four Kansas justices and two Alaska justices were markedly more narrow than those of their counterparts in other states. While these justices received approximately 56 percent "yes" votes, justices in Colorado and Arizona were retained by at least 70 percent, and a Maryland justice received 87 percent "yes" votes. Four of the five Kansas justices were opposed by a victim's rights group, a gun rights group, and the state Republican Party, among others, but supported by a grassroots organization known as Kansans for Fair Courts. The Brennan Center for Justice estimates that at least $1.1 million was spent on TV ads in the race. The Alaska justices faced a late anti-retention campaign by a pro-life group.
Arizona, Colorado, and Utah voters each retained a trial court judge who received unfavorable ratings in those states' judicial performance evaluation processes, but Colorado voters ousted a second judge whose retention was not recommended. Missouri voters also rejected a judge who was found not to meet judicial performance standards.
Contested Elections
Supreme court justices ran in nonpartisan elections in ten states, though in two of those states—Nevada and Oregon—the candidates faced no opposition. Three members of the Washington Supreme Court withstood a well-funded challenge by outside groups, motivated by recent education funding and charter school decisions. Montana, Kentucky, Idaho, North Dakota, and Mississippi each saw an open-seat race, and the Mississippi race is headed to a runoff. Incumbents were reelected in all other states, with one notable exception. In perhaps the biggest upset of this judicial election cycle, Justice Bob Edmunds of the North Carolina Supreme Court was defeated by challenger Michael Morgan. President Obama took the rare step last month of endorsing Morgan. This shifts the ideological balance of the seven-member court to the Democrats.
Partisan elections in six states were, for the most part, low-key, though an open-seat race in Louisiana saw at least $1.5 million in fundraising. Three Alabama justices ran for reelection unopposed, as did Ohio's chief justice. Incumbent justices fended off challengers in Michigan, New Mexico, and Texas, and two open seats were filled in Ohio.
(Props to the National Center for State Courts and Bill Raftery for the outstanding election tracking and to ReThink Media and Nick Lyell for the thorough media monitoring.)