"Divorce Hotel" to Cross the Pond from Europe
September 29, 2014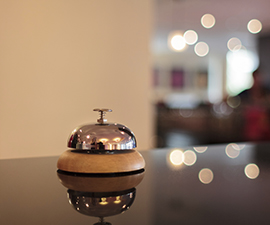 A Netherlands company is headed to New York to establish a "divorce hotel." Couples with uncomplicated divorces can spend a weekend at the hotel to work through the process quickly with mediators and independent lawyers, with the goal of emerging with documentation that a judge can make final. The company has successfully helped 16 of the 17 couples it worked with in Europe, and hopes to find similar results in America.
The idea of alternatives to the traditional divorce process are not new in the United States. The San Diego Superior Court implemented a program that allows couples to complete simple divorces in one day, and the IAALS Honoring Families Initiative Out-of-Court Model for separating and divorcing families also continues to see success.
Riley Combelic is a third-year law student at the University of Denver Sturm College of Law and contributes to IAALS Online. Please direct inquiries about this post to iaals@du.edu.