Family Law Attorneys Leading the Charge for Child-Focused Legal Reforms
June 21, 2016
New IAALS Report Highlights Themes and Recommendations to Reshape the Divorce and Separation Process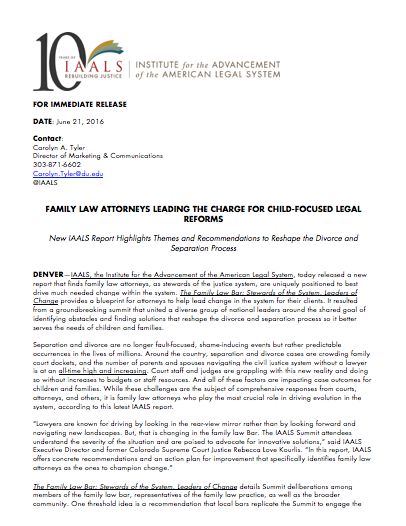 Today, IAALS released a new report that finds family law attorneys, as stewards of the justice system, are uniquely positioned to best drive much needed change within the system. The Family Law Bar: Stewards of the System, Leaders of Change provides a blueprint for attorneys to help lead change in the system for their clients. It resulted from a groundbreaking summit that united a diverse group of national leaders around the shared goal of identifying obstacles and finding solutions that reshape the divorce and separation process so it better serves the needs of children and families.
Separation and divorce are no longer fault-focused, shame-inducing events but rather predictable occurrences in the lives of millions. Around the country, separation and divorce cases are crowding family court dockets, and the number of parents and spouses navigating the civil justice system without a lawyer is at an all-time high and increasing. Court staff and judges are grappling with this new reality and doing so without increases to budgets or staff resources. And all of these factors are impacting case outcomes for children and families. While these challenges are the subject of comprehensive responses from courts, attorneys, and others, it is family law attorneys who play the most crucial role in driving evolution in the system, according to this latest IAALS report.
"Lawyers are known for driving by looking in the rear-view mirror rather than by looking forward and navigating new landscapes. But, that is changing in the family law Bar. The IAALS Summit attendees understand the severity of the situation and are poised to advocate for innovative solutions," said IAALS Executive Director and former Colorado Supreme Court Justice Rebecca Love Kourlis. "In this report, IAALS offers concrete recommendations and an action plan for improvement that specifically identifies family law attorneys as the ones to champion change."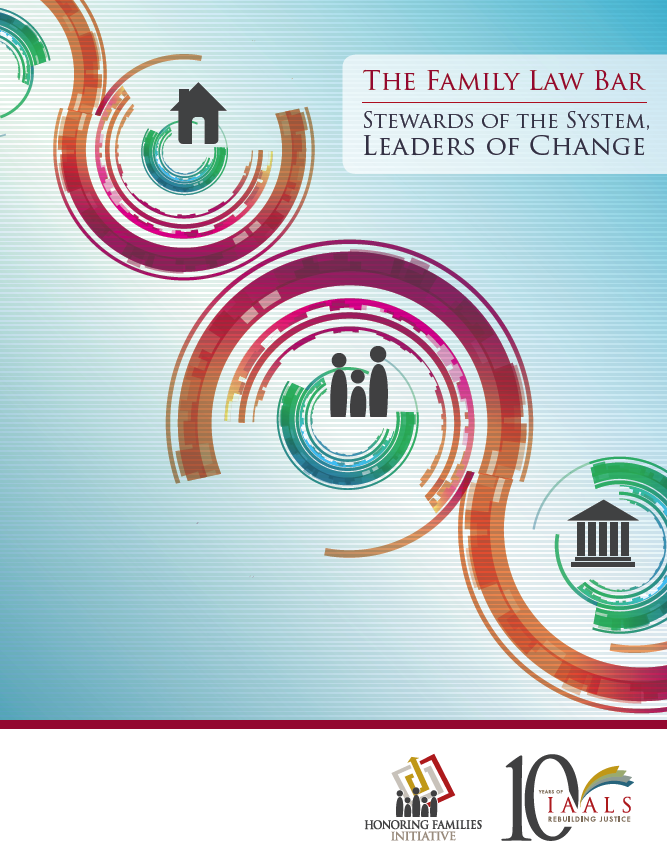 The Family Law Bar: Stewards of the System, Leaders of Change details Summit deliberations among members of the family law bar, representatives of the family law practice, as well as the broader community. One threshold idea is a recommendation that local bars replicate the Summit to engage the whole profession on a jurisdiction-by-jurisdiction basis around these important changes. IAALS developed a toolkit with downloadable resources to facilitate that goal around the country. Other key recommendations include:
Establishing a mandatory base-level Continuing Legal Education requirement for attorneys handling family law cases.
Amending state rules of professional conduct to allow for one attorney to represent both parties in a dissolution or separation.
Generating literature on access to justice issues, including the evolving role of family law attorneys as problem solvers.
Launching law practices centered on providing unbundled legal services to family law clients and others, based on the model established by Justice Café and similar organizations.
"IAALS urges all family law attorneys to consider how specific changes might be made in their jurisdictions—and in their own law practice. We all must follow through, from action plan to implementation, as a matter of professional responsibility and commitment to the families we serve," concluded Kourlis.
Click here for more about the Family Bar Summit and to download the report.
Dive Deeper
In November 2015, IAALS held a convening of thought leaders from a cross-section of the family law bar, and who are representative of the practice and broader community, to leverage the bar's expertise to better serve clients and their children.
Read More