Foundations for Practice Aims to Redefine Legal Education
Associate Director of Communications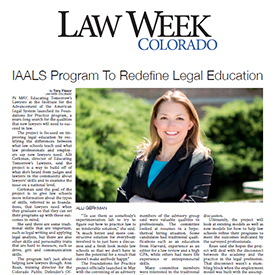 Law Week Colorado recently published an article detailing the launch of Educating Tomorrow's Lawyers' Foundations for Practice project. The goal of the project is to give law schools more information about the skills, competencies, characteristics, and traits—referred to as "foundations"—that real-world practitioners say graduates need to be successful. Alli Gerkman, Director of Educating Tomorrow's Lawyers, said there are some obvious traditional skills that are important, such as legal writing and applying legal analysis, but there are also other skills and personality traits that are harder to measure, such as drive, grit, and communication skills. Once these foundations are identified, law schools can then tailor their programs and curriculum to incorporate them more fully.
We are in this really exciting time. There's a lot of energy around the need to change legal education, but more importantly, there seems to be a lot of interest coming from the profession. This is a project that we hope changes legal education, not just law schools but how the profession engages in this as well. We have big lofty goals for this project and we think it will deliver.
The project got off the ground in May with the convening of its advisory group (listed below), which is made up of a cross-section of the legal profession: big law, medium law, small law, solos, nonprofits, government, and alternative legal services. The advisory group helped frame the broad issues the study aims to address and vetted the national survey IAALS will administer. Survey results will be published in 2015 and Educating Tomorrow's Lawyers will convene a group of representatives from its Consortium of law schools to evaluate the outcomes and to identify models of legal education that will lay the foundation necessary for law students.
Ann Roan, training director for the Colorado Public Defender's Office and a member of the Foundations for Practice advisory committee, believes that the project provides a solution for law schools to better meet the needs of students, and allows students to thrive after leaving law school.
The value I see in the project is that we're trying to ensure that the profession all of us are so passionate about continues to be able to give that guiding hand of counsel to people who are in very desperate situations and need constructive advice that only a well trained lawyer can provide.
Foundations for Practice Advisory Group:
Chief Justice Rebecca Berch, Arizona Supreme Court
Heather Bock, Chief Professional Development Officer, Hogan Lovells US LLP
Nick Catanzarite, Peters Mair Wilcox
Stanton Dodge, Executive Vice President and General Counsel, DISH Network LLC
Carolyn Elefant, The Law Offices of Carolyn Elefant
Corina Gerety, Director of Research, IAALS
Alli Gerkman, Director of Educating Tomorrow's Lawyers, IAALS
Rew Goodenow, Parsons Behle & Latimer
Hugh Gottschalk, President, Wheeler Trigg O'Donnell
Linda Klein, Baker Donelson, Immediate Past Chair, ABA House of Delegates
Justice Rebecca Love Kourlis (Ret.), Executive Director, IAALS
Keith Lee, Hamer Law Group
Paula Littlewood, Executive Director, Washington State Bar Association
Karen Mathis, Associate Executive Director, IAALS, Past President of the American Bar Association
Guillermo Mayer, President & CEO, Public Advocates
Erica Moeser, President, National Conference of Bar Examiners
Ann Roan, Training Director, Colorado State Public Defender
Alon Rotem, General Counsel, Rocket Lawyer
John Suthers, Colorado Attorney General