'Foundations for Practice' Gaining Momentum—and Support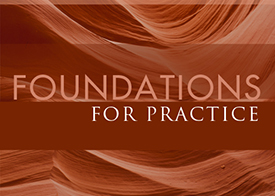 In May, we launched Foundations for Practice, an ambitious project that will study the foundations entry-level lawyers need to launch successful careers, identify models of legal education to get us there, and develop hiring tools to help employers better match their needs with their hiring practices. A project like this brings all of the stakeholders to the table—lawyers, legal educators, clients, students, and more—and requires no small amount of effort, commitment, and resources. Thankfully, we work with a dedicated network of partners around the country, including our Foundations for Practice Advisory Group, our Consortium of law schools, our ETL Fellows, and many, many more.
This summer we also added a new member to the Educating Tomorrow's Lawyers team. Kevin Keyes is joining us as a Project Manager. He will work with me, Corina Gerety (Research Director at IAALS), and our many partners as we navigate the first phase of Foundations for Practice, which includes a national survey of lawyers and a series of roundtables with the profession.
Keyes comes to IAALS from LexisNexis, where he worked as a Law School Library Account Manager and Digital Library Specialist, with responsibility for half of the nation's law schools. Previously, he worked as the Law School Publishing Representative for the Western U.S., where he promoted published materials in print and digital formats, and received feedback from professors on the types of teaching materials needed for today's law students.