The Future of the Legal Profession: In Person or Virtual?
October 21, 2021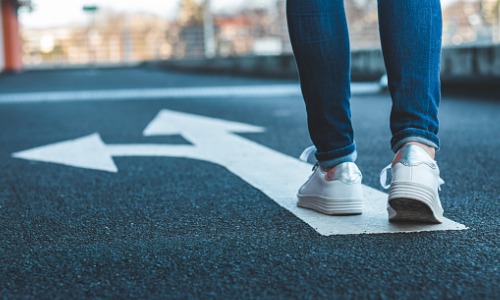 Throughout 2020, we saw just about every aspect of the legal profession move from in-person to virtual services. From law schools and the bar exam to law firms and even courts, no institution was exempt. There have been a number of horror stories, including bar exam software shutting down mid-exam and a domestic abuser hiding just off screen to intimidate his victim during a hearing. But there have also been plenty of success stories, in which technology helped decrease court backlogs and provided a safe, accessible avenue for self-represented litigants to access the courts. So where does this leave us? 
Law Schools
It seems fitting to begin this discussion where many in the legal profession begin their journey: law school. 
According to the Distance Education section of the American Bar Association (ABA) Standards and Rules of Procedure for Approval of Law Schools, accredited law schools may provide up to one-third of their curriculum online without the need for a variance from the ABA. Prior to the pandemic, out of the 199 accredited law schools, there were very few hybrid schools that fit this mold, including: Loyola University Chicago School of Law, Seton Hall University School of Law, Touro Law, and University of Denver Sturm College of Law. There were also a handful of hybrid law schools that applied for and received a variance from the ABA due to their offering more than one-third of their instruction online, including: Mitchell Hamline School of Law, Southwestern Law School, Syracuse University College of Law, University of Dayton School of Law, and University of New Hampshire School of Law. The majority of these hybrid programs were created less than 10 years ago.
Fast forward to March 2020, and the list of hybrid/online schools increased dramatically. That July, the ABA granted variances for every accredited law school due to the COVID-19 pandemic. By the fall of 2020, around 80 schools moved to a completely online format, including two top-10 schools: Harvard Law School and University of California – Berkeley School of Law. Around 70 schools remained in person with safety measures, and the remaining 50 schools used a hybrid approach. 
Around this same time, the ABA issued a resolution that removed the Distance Education rule, and added a more generalized requirement that law schools obtain the ABA's consent before instituting a "Distance Education J.D. Program." While this change reflects the immediate needs of the time, there has been a growing desire over the last decade for a more virtual approach to law school.
We are now more than 18 months into the pandemic, and while COVID-19 numbers are higher right now than this time last year, the availability of vaccines has contributed to a shift toward pre-pandemic behavior. This includes the majority of law schools shifting back to in-person classes. At the same time, though, the ABA has approved the first fully online program at an accredited law school. St. Mary's University School of Law in San Antonio, Texas, will launch its online program in the fall of 2022. It will likely not be the last school to implement such a program—nor should it be.
Bar Exam
Some people have enjoyed attending law school online, and others have despised it. However, this controversy has been minimal when compared to that surrounding the bar exam. Even prior to the pandemic, there have been a host of issues surrounding the exam itself, from states mandating "court-appropriate" attire and forbidding tampons and pads to racial disparities in passage rates that have contributed to a lack of diversity in the profession. But let's put these appalling issues aside and focus on how the test has been administered throughout a pandemic. 
From July to October 2020, 26 out of 56 jurisdictions continued to administer the exam solely in person. Another 19 jurisdictions administered the exam exclusively online, one solely implemented diploma privilege, and seven offered some hybrid approach of these three options. Three jurisdictions just cancelled the exam. 
By the time of the February 2021 exam, however, jurisdictions began to draw a line in the sand and offer the exam either remotely or in person, with no hybrid or diploma-privilege option. Out of 55 jurisdictions, 20 held their exams in person and the other 35 held them remotely. And July 2021 looked similar, with 25 jurisdictions holding their exams in person and 30 remotely, with one jurisdiction cancelling its exam.
At first, jurisdictions scrambled to find any way to administer the exam—even if that meant offering a hybrid of in-person, remote, and diploma-privilege options—and it appears that, now, they're slowly moving back toward in-person examinations. Yet anytime a service like the bar exam is forced to drastically change for even a short period of time, it would disservice users to not analyze the different approaches taken and modify accordingly. Because the truth is, there are catastrophic issues with both the in-person and virtual bar exams. (To get a taste of some of the many issues with the virtual exam, like ExamSoft shutting down mid-test or test-takers being accused of cheating because they simply looked off-screen, get onto Twitter and look up #Barpocalypse.) And aside from the very serious issues raised above, the in-person exam also has accessibility issues, with many states holding the multi-day test at a single location, which often disfavors those who live in rural areas.  
As part of this analysis, the elephant in the room must also be addressed. The purpose of the bar exam is to measure minimum competency, with the goal of protecting the public from incompetent lawyers. But there is no evidence it does so. In fact, a recent study by The Ohio State University Moritz College of Law and IAALS highlights a number of fundamental changes the bar exam would need to undergo in order to test for minimum competency. So if the bar exam has not actually been testing minimum competency all these years, is the exam really necessary? 
Wisconsin seems to think not, as it relies on academic and fitness requirements. (For the record, its attorney public-discipline rate is one of the lowest in the country.) Unfortunately, it is unlikely that the legal profession will begin to distance itself from the bar exam, but hopefully this pandemic has shined a bright-enough light on the exam's glaring issues that the status quo is no longer acceptable—and significant changes start to be made.
Law Firms
According to the 2021 Report on the State of the Legal Market by Thomas Reuters and Georgetown Law, over the last 10 years law firms have been profiting and remaining competitive by increasing their rates, shrinking the rates of equity partners while growing other categories of fee-earners, and aggressively controlling direct expenses and overhead costs. They have also largely required lawyers to work in person. But like law schools and the bar exam, the pandemic forced many law firms to undergo a significant change by moving to a virtual format.  
Not surprisingly, law firms during the pandemic reduced their salaries, laid off employees, significantly decreased overhead expenses for recruiting and office supplies, and increased expenses for technology. But law firms were practically forced to make these changes, including going virtual. Will they go back to the status quo once the pandemic is over? 
In the 2020 Law Firm General Counsel Roundtables Survey, 81 percent of senior risk managers believe that a significant increase in remote working will become a permanent feature of how their firms operate. This is likely due, in part, to lawyers' increased desire to work from home. Acritas, a partner of Thomas Reuters, reports that the number of lawyers who wish to work from home at least one day per week has doubled from 37 percent pre-pandemic to 76 percent today. Partners are jumping on the remote train as well. A majority of partners observed working practices to improve from remote working, and a majority desire to work remotely themselves at least one day per week. 
But there are plenty who vehemently disagree. Morgan Stanley's chief legal officer, Eric Grossman, sent an email to all firms representing the bank urging them to get their lawyers back in the office. He wrote, "I strongly believe that firms that return to the office will have a significant performance advantage over those that do not, and we will see that advantage reflected in their client service and the ability to deliver successful outcomes for Morgan Stanley." To hammer the point home, Grossman noted that Morgan Stanley "will not be accommodating Zoom participation in critical meetings." And while this may seem tone-deaf and over-reaching on the part of a client, Morgan Stanley reports that a number of leaders in the New York legal community reached out to Grossman thanking him for his email. 
So where does this leave law firms in the future? Data not only shows that the majority of lawyers and partners want a hybrid approach of in-person and remote working, but that many firms have increased their attention on wellness and work-life balance. (This is a much-needed change in focus for a profession where one in five lawyers are problem drinkers.) And because lawyers are now looking for flexibility in how they work—and are leaving for firms that are willing to offer it—more and more firms are feeling the pressure to accept the new normal of a hybrid-work culture. 
Courts
Unlike with law schools, the bar exam, and law firms, the impact of COVID-19 on courts has affected not only the legal community, but the public at large. 
In March 2020, courts were given very little notice to stop all in-person proceedings, except for a limited number of hearings due to exigent circumstances. For many courts, this included a pause on in-person services at their self-help centers. In total, 34 states suspended in-person proceedings statewide; the other 16 states suspended in-person proceedings at the local level. Ironically, a majority of courts had been fighting against an increased use of technologies for years—and then, early last year, were being told that their only way to operate was to use the technologies they had available. 
Thankfully, courts immediately began to restructure their services, implementing a variety of technologies such as e-filing, teleconferencing, video conferencing, email, and text messages. They also created options for those who lacked the necessary technology by installing computers and tablets in empty courtrooms and privacy pods for litigants to use in a socially distant, safe manner. Virtual hearings, which were seen as controversial pre-pandemic, became commonplace. We were even observers to the nation's first remote jury trial.
To say that courts have come a long way in a short period of time is a huge understatement. But that is not to say that it came without issues and setbacks. As was referenced earlier, one Zoom hearing had to be stopped because it was discovered that a defendant with a no-contact order was in the same house as the woman he was accused of assaulting. Thankfully, the defendant was arrested and the woman was safe, but this example shows there can be issues with some kinds of virtual hearings—especially when courts are not given adequate time to fully develop them.
Now, with the creation of a vaccine, courts have been allowed to start moving many (if not all) of their services back into the courthouse. And some courts are embracing this return to pre-pandemic status with open arms. But surveys are showing that a majority of judges plan to keep some form of remote hearings, using a hybrid approach because remote hearings have avoided unnecessary delays and made scheduling easier. Similarly, many in-court self-help centers plan to keep some of the virtual services they started during the pandemic, because they were ultimately able to help more people than they could with just an in-person setting.
It can be argued that, in the past year and a half, the legal profession has implemented more change than it had in the previous 100 years. Every corner of the profession was affected by the pandemic, and the profession as a whole utilized technology to a greater extent than ever before to keep their services up and running. Is technology perfect? No. Is it the answer to all of the profession's problems? Also no. But can it be used to create more affordable and accessible options for law school, help fix some of the many issues with the bar exam, provide a better work-life balance at law firms, and increase access to legal services? Absolutely. 
Hopefully, the COVID-19 pandemic will soon come to an end. And let us also hope that the legal profession has learned a valuable lesson in just how beneficial technology and remote services can be.