The Goals of Justice Must be Won Anew
September 18, 2023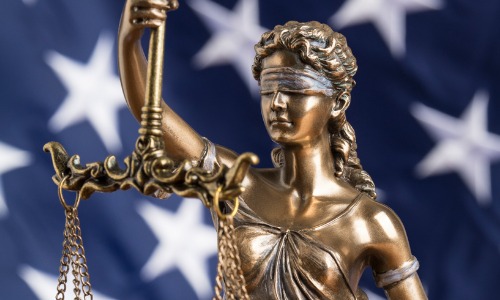 September 17th is Constitution Day, which commemorates the day over two hundred years ago when members of the Constitutional Convention signed the United States Constitution. Each year on this day, we take a moment to reflect on the establishment of our government and the guarantee of our rights.
The Constitution was signed after a long summer of debate and discussion. It continues to stand today as the oldest written national constitution still in operation, defining the structure of our government, delineating the rights of states and citizens, and ensuring we live in a nation governed by the rule of law.
The judicial branch is responsible for ensuring that all persons have the full benefit of the rule of law, and to apply the law fairly and impartially. To fulfill this promise, we must constantly work toward a justice system that realizes equal justice for all. The World Justice Project Rule of Law Index rates the United States 115 of 140 countries for whether people can access and afford civil justice, and 121 for whether civil justice is free of discrimination. IAALS' US Justice Needs data reveals there is no income group, gender, race or ethnic group, age group, or geographic area that does not face a substantial number of legal problems. On an annual basis, 55 million Americans experience 260 million legal problems; a considerable proportion of these problems—120 million—are not resolved or are concluded in a manner that is perceived as unfair. We can recognize the critical importance of our Constitution—and its enduring importance in our nation—while also urging continual improvement of our justice system to realize the promise of the rule of law.  
In celebration of this day, I am joined today by IAALS Board of Advisors Chair James Sandman and Senior Advisor Judge Jeremy Fogel, who share perspectives on the rule of law, its history, and its enduring call to action today. 
What does the rule of law mean to you?
Judge Fogel: It means that judicial decisions are based on legal principles and admissible evidence rather than desired results; that participants in the legal process are treated with respect and have a meaningful opportunity to be heard; and that judges act ethically and with intellectual honesty, including an ongoing effort to be aware of and set aside their personal biases.
Jim Sandman: It's hard to capture in a sound bite. I like the World Justice Project's definition and explanation of what "the rule of law" means. They define the rule of law as "a durable system of laws, institutions, norms, and community commitment that delivers four universal principles: accountability, just law, open government, and accessible and impartial justice." They then go on to elaborate on the four principles. 
The U.S. Constitution was finalized only after passionate disagreement and heated arguments, followed by compromise. What lessons can we take from this process and outcome today?
Judge Fogel: A positive lesson is that the framers didn't allow their deep divisions to prevent them from achieving their essential objective, which was to create a framework for a new nation. At the same time, not all of the compromises they made were durable, and the consequences of that fact, including the civil war and its aftermath, were tragic. Going forward, we need to find ways to work through our disagreements in ways that are grounded in core principles as well as practicality. 
Jim Sandman: Respectful debate and principled compromise are essential to effective government in a democratic republic. But compromise just to achieve agreement can be wrong. The three-fifths compromise, for example, was a shameful event in American history.
On this Constitution Day, what do you see as the call to action for our society and for the legal profession?
Judge Fogel: To remind our society of the critical importance of the rule of law, and to remind ourselves of our aspiration to be guided by the better angels of our nature. 
Jim Sandman: Attorney General Edward Levi said it well in his farewell remarks to the Department of Justice. He said the goals of the fair, effective, and nonpartisan administration of justice "can never be won for all time. They must always be won anew."
At IAALS, we are committed to a justice system that fulfills the promise of equal justice under law, and we work to realize this ideal by facilitating continuous improvement in the American legal system. We are living in a time when our relationship with discourse and debate is increasingly fraught. Yet we believe it is essential to bring diverse perspectives together and create an atmosphere where people are comfortable speaking openly about their different viewpoints. To answer this call to action, and ensure a justice system that remains fair and effective, we must continually connect, engage, and work together to identify the biggest issues in our justice system—and their solutions.
We hope you join us in fostering these conversations and building a better justice system for everyone, today and every day.