Help Us Write the Next Chapter of IAALS
October 6, 2020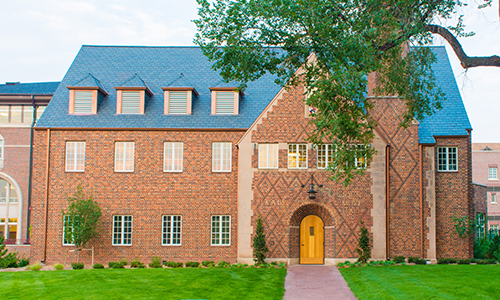 It's my honor to serve as IAALS' interim executive director while we conduct a nationwide search for our next visionary leader. Since stepping into the interim role in July, I have loved seeing firsthand how IAALS' work makes a real difference at a time when it's needed most.
Here are a few examples:
For the people of our nation, we have identified and promoted the qualities that lawyers need to be successful for clients, we have developed new ways for families to navigate the divorce process, and our work is rebuilding public trust and confidence in the justice system.
Through our nation's courts, we have begun to transform civil and family court procedures to be more efficient and user-centric, we have developed streamlined discovery processes to decrease cost and delay, and we have produced new best practices for the judiciary.
With the legal profession, we have lead national momentum toward regulation reform and we have defined the minimum competence needed by lawyers to ensure a better bar exam and licensing process.
In order to ensure the leadership over this important work continues—and grows—we recently retained the renowned global search firm Heidrick & Struggles to help us find the best and most diverse possible candidates for the CEO job at IAALS. My hat is not in the ring, but I wanted to share in my own words what makes this role special.
In The Year of Living Dangerously (1982), Academy Award-winner Linda Hunt as Billy Kwan recounts the Hindu deity Krishna saying to Arjuna: "All is crowded by desire . . . as a fire by smoke, as a mirror by dust. From these, it blinds the soul." 2020 has felt in the worst ways like the year of living dangerously, our desire for justice and the rule of law obscured by smoke and dust.
IAALS is a place of clarity. Our call to arms is for justice we can believe in, and we have a nonpartisan way to solve problems within the American legal system. Our small, mighty team advances the ideal of the rule of law in American life in leveraged, concrete ways. We have four distinct competencies: 1) imagining access to justice at scale and for all; 2) elevating and listening to the voices of people who experience our justice system; 3) being led by data rather than rhetoric; and 4) convening disparate groups to solve the most urgent problems with the system. Taken together, they are unique in the landscape of the American legal system—and are unique among organizations working to better it.
We strive to model diversity, equity, and inclusion in our work together. We challenge ourselves to address the twin American pandemics of COVID and systemic racism by connecting to the full promise of justice for all.
There is a great spirit to our work, even virtually, and we enjoy a vibrant relationship with the University of Denver from our campus headquarters.
And we get to do these things in the shadow of Colorado's Rocky Mountains!
Our legal system needs leaders and visionaries in these trying times. And IAALS seeks the same. We'll keep you posted on the progress of our CEO search, and we hope you'll help in any way you can by sharing this PDF job description or nominating candidates to IAALS@heidrick.com.