Honoring Families Initiative Welcomes New Director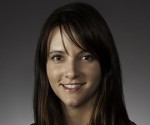 You may have noticed a new voice in our Honoring Families blog posts. Natalie Knowlton has been with IAALS since 2006 and joined the staff full time in 2008, working first as a Research Analyst across initiatives and then as Manager of the Quality Judges Initiative. She has made significant contributions to many projects during her time here, including research and editing for the book Rebuilding Justice, published in 2011.
Now, she will make significant contributions to our Honoring Families Initiative as its Director. Honoring Families is an initiative of IAALS dedicated to advancing empirically informed models to ensure greater accessibility, efficiency, and fairness in divorce and child custody matters. It launched formally in 2012 and developed the model for the Resource Center for Separating and Divorcing Families (Center), which will debut at the University of Denver on September 3, 2013. Former Honoring Families Director Melinda Taylor became the Center's first Executive Director on June 1, 2013.
The Center will be the first of its kind in the United States and, under Knowlton's leadership, Honoring Families will conduct a comprehensive evaluation of its performance during its first three years.