IAALS at the 2022 World Justice Forum
May 30, 2022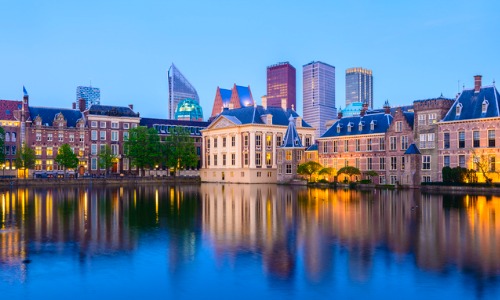 This week, IAALS Interim CEO Brittany Kauffman and Director of Research Logan Cornett will attend the World Justice Forum, discussing US Justice Needs and the importance of people-centered data when creating and implementing justice reforms. 
The World Justice Forum is an international event that convenes hundreds from around the world, both in The Hague and online, for three days of agenda-setting, learning, and action on pressing issues. Kauffman and Cornett are part of the "Data, Diagnosis, Scoping the Challenge" working session series, exploring effective techniques and timely debates related to data collection, monitoring, measurement, and analysis. Their session, "Justice Needs and Satisfaction Study in the US: Lessons for Moving from Data to Action," will be presented in partnership with HiiL, The Hague Institute for Innovation of Law. 
The session will dive into our groundbreaking US Justice Needs study, which surveyed over 10,000 people across all income levels and regions in the United States, and highlight key results of the study and policy implications. The session will also facilitate broader discussion about the importance of using people-centered data to assess justice needs and how to target reform efforts in an evidence-based way. Through an interactive dialogue with attendees, the panelists will cover the importance—and the challenges—of moving from data to action when realizing justice for all. 
The forum will cover a spectrum of important topics, including the challenges of measuring public integrity, innovations in community justice, and judges as peacebuilders. All of the working group sessions are designed to advance the forum's focus this year: "Building More Just Communities." 
IAALS attended the World Justice Forum in 2019, when Founding Executive Director Rebecca Love Kourlis and Kauffman participated on panels addressing legal regulation and evidence-based family justice reform. They also showcased the work of IAALS' Court Compass project, which received an honorable mention as part of the World Justice Project's World Justice Challenge 2019.
We look forward to gathering with so many world justice leaders, as well as our US Justice Needs project partner HiiL, to work together on how to make access to justice a reality in our communities. Many of society's most widespread and pressing problems—access to justice, corruption, discrimination—cannot be solved with individual, siloed approaches. It takes cooperation among myriad disciplines, across a wide spectrum of experiences, to find solutions, and IAALS is honored to be a part of this global effort. 
Dive Deeper
People of all socioeconomic backgrounds face problems every day with unclear paths to resolution, and 120 million legal problems do not reach a fair resolution every year. With the launch of our findings, we have not only uncovered the justice needs of our diverse populations nationwide—we are paving the way for meaningful progress to close the justice gaps in our society.
Read More