IAALS Announces Leadership Transition
March 7, 2019
After 13 years of growing IAALS—the Institute for the Advancement of the American Legal System at the University of Denver—from a fledgling idea to a nationally recognized force for change and evolution on the legal landscape, Rebecca Love Kourlis will retire from her role as Executive Director in September.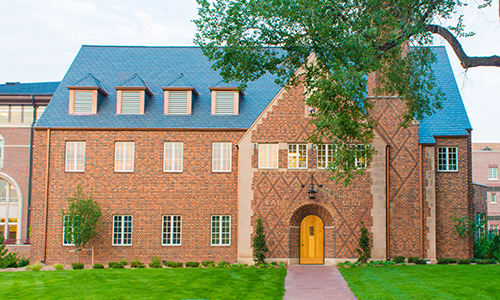 The Chancellor of the University of Denver, Rebecca Chopp, and the Executive Committee of IAALS have opted to fill Kourlis' formidable shoes with another national leader, Scott Bales, who recently announced he will step down as Chief Justice of the Arizona Supreme Court. Bales' dedication to improving and reforming our courts, the legal profession, and the judiciary has been a hallmark of his entire career, most recently in his leadership of the Arizona court system, now recognized as cutting edge in implementing critical legal system reforms.
"Because of Becky's single-minded commitment to rebuilding justice in our country, IAALS has already made an indelible mark on the way the system must change. Her leadership on this work, so critical to our democracy, has made real change today and illuminated the path forward," said Arizona Supreme Court Chief Justice Ruth McGregor (Ret.), who serves on the IAALS board and chaired the committee tasked with finding Kourlis' replacement. "We were fortunate to find someone in Scott ready to lead IAALS into the future with the same unwavering commitment and overwhelming experience."
From its inception, Kourlis has focused on building IAALS into a place where stakeholders can come together to develop real solutions to problems within the legal system. Under her direction, IAALS has created a "think and do" tank model that includes empirical research, collaboration, and ultimate implementation of the proposed solutions.
Under Kourlis' leadership, IAALS has:
Enabled an awareness of and developed consensus around the scope and sources of problems in our nation's civil justice system and built support for reform among attorneys, judges, and courts;
Championed new state and federal civil case processes, and seen them implemented across the nation;
Developed new tools to help courts, lawyers, and judges evolve to meet 21st Century court users' needs and expectations;
Given users of the system a true voice in reform;
Pushed for more effective and meaningful judicial performance evaluation;
Spearheaded a national effort to identify the characteristics and competencies that lawyers need to succeed in the practice of law and worked with law schools to incorporate them into the curriculum so that graduates are better prepared to meet their clients' needs when they begin their practice;
Championed the development of a better way for family courts to function, particularly around divorce, with a deeper focus on non-adversarial problem solving and the health of the family.
Kourlis will officially leave her role as Executive Director on September 15, 2019, and Bales will assume leadership at that time.
Closing Argument
"Building IAALS has been the most rewarding professional pursuit of my career. We have spanned ideological divides, brought together diverse and divergent participants, used empirical data rather than conjecture, and formulated real solutions to real problems within the American Legal System. Our partners are wonderful people across the country who hold dear our system of justice and who are committed to excellence within that system.
And, our dedicated and motivated staff strive each day to move a bit closer to our vision of a system that works for all people by being accessible, fair, reliable, efficient, and accountable: a system that earns trust, because a trusted and trustworthy legal system is essential to our democracy, our economy, and our freedom.
It is with great confidence that I will be handing over the gavel at IAALS to Chief Justice Bales. He knows us and has worked with us—and more importantly, he shares our vision and will be positioned to lead IAALS into even greater impact across the country and across the legal system."
—Rebecca Love Kourlis
Opening Statement
"I am honored by the opportunity to lead IAALS.
No other organization plays a similar role in helping our legal system to more effectively afford justice to those it serves. Becky and the team she has assembled have greatly advanced this goal in courts and other forums across our nation. I look forward to working with others at IAALS and its many partners in carrying forward her remarkable legacy and addressing new challenges." 
—Scott Bales