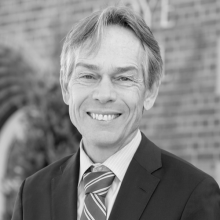 Scott Bales was Executive Director at IAALS from September 2019 through July 2020, joining the organization after retiring from the Arizona Supreme Court, where he had served for fourteen years, including as Chief Justice from 2014–2019. He is a member of the Council of the American Law Institute and the Vice Chair of the Council of the ABA's Section on Legal Education and Admissions to the Bar. He previously served as the Chair of the Appellate Judges Conference of the ABA's Judicial Division. Bales also has taught many courses as an adjunct professor at the law schools at Arizona State University and the University of Arizona. 
Bales was named by the American Judges Association as the 2018 recipient of the Chief Justice Richard W. Holmes Award of Merit, which recognizes "outstanding contributions to the judiciary." He also received the 2018 Ernest C. Friesen Award of Excellence, presented annually by the Justice Management Institute to an individual who has demonstrated vision, leadership, and sustained commitment to the achievement of excellence in the administration of justice.
Before his appointment to the Court, Bales had practiced law in Arizona for nearly 20 years as both a private and public lawyer. He was a partner in firms that later became Osborn Maledon P.A. and Lewis Roca Rothgerber Christie. Bales served as Arizona's Solicitor General from 1999–2001. He also was a Deputy Assistant Attorney General for the U.S. Department of Justice's Office of Policy Development, a federal prosecutor in the United States Attorney's Office in Phoenix, and a Special Investigative Counsel for the Justice Department's Inspector General. Bales was a law clerk for Justice Sandra Day O'Connor on the U.S. Supreme Court and Judge Joseph T. Sneed III on the Ninth Circuit Court of Appeals.
After graduating from Michigan State University with degrees in history and economics, he received a master's degree in economics and his law degree from Harvard.