IAALS Wishes Justice Sandra Day O'Connor a Happy 90th Birthday
March 26, 2020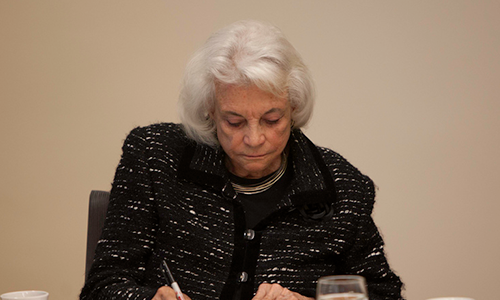 We join countless others in wishing retired Justice Sandra Day O'Connor all the best today on her 90th birthday. Her life's journey has been remarkable—spending her childhood on a remote cattle ranch in southeastern Arizona, entering Stanford University at age 16 and finishing law school at 22, working in each branch of Arizona's state government, serving more than 24 years on the U.S. Supreme Court, and receiving the Presidential Medal of Freedom—our nation's highest civilian honor—in 2012.
She was of course the "First" as reflected by the title of the engaging biography published last year by Evan Thomas. Her 1981 appointment to the U.S. Supreme Court was a key milestone on our continuing path to gender equality. When she graduated from Stanford Law School in 1952, no law firm would hire her as a lawyer. Today, most law students are women, more than a third of practicing lawyers are women, three women serve as justices on the U.S. Supreme Court, and women are more than a third of the judges on most other courts at every level. Justice O'Connor has powerfully demonstrated that a person's opportunities should not be limited by gender or background.
As a Justice, she exemplified the ideal of a judge committed to considering each case carefully, independently, and fairly. She brought to the Court a perspective steeped in practical wisdom, combined with admirable civility, unceasing energy, and a healthy sense of humor. The Court in many ways has missed its only member who was also in the Cowgirl Hall of Fame.
Justice O'Connor is inspiring beyond her judicial career. After retiring from the Court in 2006, she worked to promote the rule of law, fair and effective courts, and civic education, especially through the stunningly successful iCivics program (reaching more than five million students in all 50 states) and the O'Connor Institute. In 2009, she joined with IAALS in launching our Quality Judges Initiative, which developed the model O'Connor Judicial Selection Plan. She also serves as the honorary chair of our O'Connor Advisory Committee, which continues to support efforts to improve judicial selection, evaluation, and retention processes. IAALS and the public have benefited greatly from her efforts.
Growing up on the Lazy B Ranch, Justice O'Connor learned that "no task was too small to be done as well as possible" and "no task was too large to be undertaken." She also has long believed that every person can make a difference and "even a small difference is worth making." These words are worth remembering as we face our nation's many challenges, including the current pandemic.
From all of us at IAALS, a great thank you and most happy birthday to Justice O'Connor.
Editor's Note: Scott Bales clerked for Justice O'Connor during the U.S. Supreme Court's 1984–​85 term and she swore him in as a justice on Arizona's Supreme Court in 2005.
Dive Deeper
IAALS and U.S. Supreme Court Justice Sandra Day O'Connor (Ret.) have identified a model for choosing, evaluating, and retaining judges that balances the need for fair and impartial courts with the need for public accountability and transparency.
Read More