IAALS Brings Together Corporate Leaders to Discuss Preservation in Practice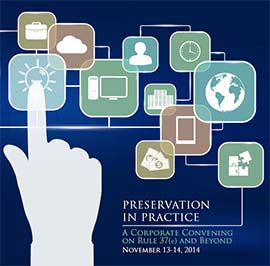 On November 13-14, 2014, IAALS convened a group of senior in-house counsel and corporate management from around the country to discuss the challenges of preservation and production in the United States. Disputes about discovery can both derail litigation and also exponentially increase costs. Many of those disputes relate to the topics of preservation and production and are resolved on a case-by-case basis in courts around the nation—creating a patchwork of divergent and inconsistent expectations and standards. The proposed amendments to the Federal Rules of Civil Procedure are a step in the right direction, but leave many unresolved questions in this area.
Titled Preservation in Practice: A Corporate Convening on Rule 37(e) and Beyond, the convening focused on the proposed federal amendments to Rule 37(e), and the preservation and production realities companies face on a daily basis. The convening provided an opportunity for attendees to talk to their peers about current practices and challenges, for both small and large companies, and to brainstorm possible solutions.
The convening is part of IAALS' "DIAALOUGES" project, a groundbreaking series of national conversations designed to bring together the best minds in the country to forge solutions to the most pressing issues facing the American legal system. We are grateful to El Pomar Foundation for their continued generous support of this series.