IAALS Celebrates Strength in Numbers in 2012 Annual Report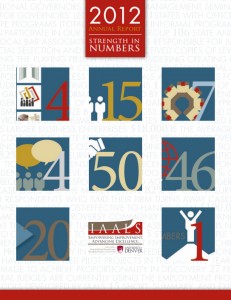 Numbers matter. As we take on some of the biggest challenges facing the civil justice system, our work depends on the number of stakeholders we bring to the table, our ability to facilitate implementation of our recommended models in numerous instances, and, of course, our careful measurement of the outcomes produced. Our 2012 Annual Report commemorates our commitment to Strength in Numbers.
We are grateful to count you among our numbers and look forward to a memorable 2013 as we work together to advance a more accessible, efficient, and accountable civil justice system.
If you are interested in our work, we invite you to make a donation, subscribe to our blog, or subscribe to our newsletter.