IAALS Champion, Judge Steve Leben, to Receive 2014 Rehnquist Award for Judicial Excellence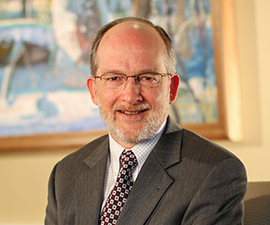 IAALS would like to congratulate Kansas Court of Appeals Judge Steve Leben on being named the 2014 recipient of the William H. Rehnquist Award for Judicial Excellence. The National Center for State Courts Rehnquist award is presented annually to a state court judge who embodies judicial excellence, integrity, fairness, and professional ethics. Judge Leben joins the company of accomplished jurists who have received the award in prior years, including Judge Kevin S. Burke (Minn.), Judge Leonard P. Edwards (Cali.), and Justice Christine M. Durham (Utah)—all three of whom have also contributed to IAALS' success over the years.
As co-founder of proceduralfairness.org and author of countless publications on the subject, Judge Leben has made a significant contribution to the procedural fairness field. Receiving the Rehnquist award, according to Judge Leben, is another step in bringing attention to this important issue. Of the honor, NCSC President Mary C. McQueen said:
Judge Leben has dedicated his career to ensuring that 'justice for all' is actual, not merely aspirational . . . . As a result of his groundbreaking work in procedural fairness, Judge Leben has personally contributed to enhancing the public's trust and confidence in our country's court system.
Judge Leben is a close friend of IAALS. His impact is most deeply felt in our Quality Judges Initiative, where he has been invaluable in our work on judicial performance evaluation for appellate judges. As a resource to the IAALS Rule One Initiative, Judge Leben helped spread the word on important IAALS work in the area of judicial case management. And, of course, his groundbreaking work in procedural justice impacts every facet of our mission.
Our thoughts will be with Judge Leben when he accepts this award from Chief Justice Roberts on November 20. A wonderful honor for a deserving recipient.