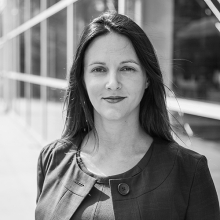 Director of Special Projects
Natalie Anne Knowlton is a director of special projects at IAALS. She focuses on legal and empirical research and analysis, facilitating collaboration among stakeholders, and undertaking national outreach and advocacy to enable continuous improvement in practices and procedures for divorce and child custody matters. Formerly, she was Director of the Honoring Families Initiative at IAALS, Manager of the Quality Judges Initiative, and before that as a Research Analyst spanning IAALS' initiatives. She has been at IAALS since April 2006.
Knowlton received her JD from the University of Denver Sturm College of Law and a MA in International Studies from the Josef Korbel School of International Studies. During her time at DU, she was involved in an International Criminal Tribunal Externship, through which she worked with the United Nations tribunals prosecuting war crimes in Rwanda and the former Yugoslavia. She then went on to serve as an Independent Contractor for the Office of the Prosecutor at the International Criminal Tribunal for Rwanda in Arusha, Tanzania, where she analyzed closed trial transcripts and witness testimony for the Butare trial team. Knowlton spent three years with the Denver Journal of International Law and Policy, including a year as Managing Editor on the 2007–2008 Editorial Board. She graduated Phi Beta Kappa and summa cum laude from the University of Colorado-Boulder in 2002 with a BA in International Affairs.
Additional Info
Recent Speaking Engagements
Co-Presenter, ABA Conference on Client-Centric Legal Services: Getting from Here to There, August 2015: "Self-Representation and the Role of Lawyers: A report on the research of IAALS"
Panelist, National Association for Court Management, January 2015: "Recent Research on Self-Represented Litigants"
Panelist, National Judicial Institute Managing the Complex Civil Trial, January 2012: "U.S. Overview: Federal Courts and State Courts"
Speaker, National Judicial Institute Managing the Complex Civil Trial, January 2012: "Overview of IAALS: Should We Measure Successful Management (or lack of it)?"
Panelist, 2009 Civil Rules Summit: From Anecdotes to Action, March 2009: "Brief Overview of Worldwide Reform and Domestic Innovation"
External Publications
Coauthor, "ABOTA Member Survey on Trust and Confidence in the Civil Justice System," Voir Dire, Fall-Winter 2019, 12-15 (link).
Coauthor, "A New Out-of-Court Process for Divorce and Separation," 43 The Colorado Lawyer 5 (February 2014).
Coauthor, "President Obama and the International Criminal Law of Successor Liability," 37 Denv. J. Int'l L. & Pol'y 615 (2009).
Education
JD, University of Denver Sturm College of Law
MA, International Studies, University of Denver Josef Korbel School of International Studies
BA, International Affairs, University of Colorado, summa cum laude