Back to IAALS Staff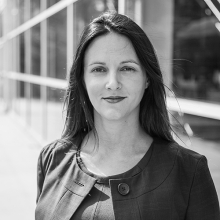 Director of Special Projects
Natalie Anne Knowlton is a director of special projects at IAALS. She leads the organization's work in family justice reform and has expertise in regulatory reform, legal technology, self-represented litigation, case management, and public trust and confidence in the courts. She is committed to bringing deep empathy to the court users' experience and in pursuit of that goal employs legal and empirical research and analysis, facilitates collaboration among stakeholders, and engages in national outreach and advocacy.
Through her A2J Hour program, Knowlton facilitates diverse and interactive public discourse on discrete issues in access to justice and innovation in the legal profession. She is a judge for the American Legal Technology Awards (Access to Justice Category, 2021) and faculty for Vanderbilt Law School's Summit on Law and Innovation (2022). She has previously been faculty for the ABA TECHSHOW (2021), LSC's Innovations in Technology Conference (2020), and other national legal and court industry conferences. Knowlton is a co-founder and organizer of the Denver chapter of Legal Hackers. She is also a limited partner in Overlooked Ventures and LongJump Ventures. 
Knowlton is Pragmatic Marketing Certified Level III and graduated from General Assembly's Product Management Course. She received her JD from the University of Denver Sturm College of Law and an MA in International Studies from the Josef Korbel School of International Studies. She graduated Phi Beta Kappa and summa cum laude from the University of Colorado-Boulder with a BA in International Affairs.