IAALS Honors El Pomar Foundation for Supporting Stakeholder Convenings
May 1, 2017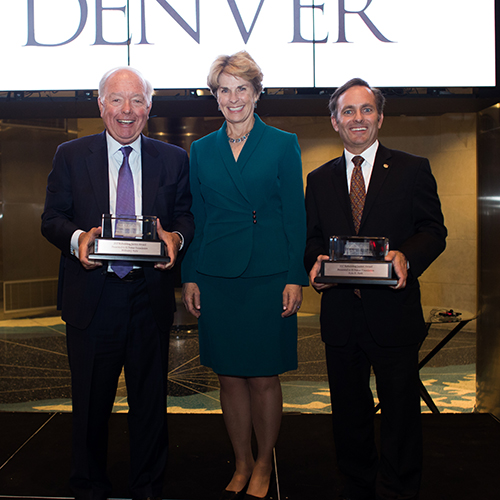 During a recent gala in Denver, IAALS presented El Pomar Foundation, William J. Hybl, and Kyle H. Hybl with our highest honor, the Rebuilding Justice Award.
El Pomar Foundation and the Hybls were recognized for their generous support of our DIAALOGUES series of convenings, which have helped expand our impact and the impact of our work on a national scale. These remarkable gatherings are a hallmark of IAALS' process and bring together key stakeholders to forge practical solutions to the most pressing challenges in today's legal system. In the video tribute to our awardees, William Hybl said:
"It means something when the actual purpose of the award is what we do on an ongoing basis. And for that, we're not only thankful but we're certainly humbled."
The night also featured an engaging and inspiring keynote from Richard N. Baer, Chief Legal Officer of Liberty Media Corporation and a former member of the IAALS Board of Advisors. His remarks centered on forging consensus and dialogue in a world filled with contrasting opinions, and how IAALS expertly bridges this gap and therefore speaks with a credible, confident voice. He ended with a quote from Madeleine Albright, which resonated profoundly with the audience:
"There is a vital distinction between confidence and certainty. Confidence comes from the effort to learn all we can; certainty comes from believing we've already learned everything there is to know. If we are confident, we will search for truth with an open mind—knowing that there is nothing shameful about changing our opinion if the facts warrant. If we are certain, we will feel no need to search for truth—which is usually when facts sneak up behind us and knock us off our feet."
IAALS thanks all who joined us as part of our 10th Annual Rebuilding Justice Award Dinner—and especially DISH, our Corporate Sponsor, as well as The Broadmoor Resort, which provided a very generous silent auction package that was presented at the dinner. And, again, we thank El Pomar Foundation, William J. Hybl, and Kyle H. Hybl for their support of our mission and for their support of so many throughout Colorado.
For more on the evening, read the news coverage: "Denver legal group honors El Pomar, Hybls" (The Gazette), "IAALS Honors El Pomar Foundation" (Law Week Colorado), or "El Pomar, Hybls Receive 2017 Rebuilding Justice Award" (University of Denver Newsroom).
Dive Deeper
On April 20, 2017, IAALS held its annual Rebuilding Justice Award Dinner, which recognizes individuals who exemplify the spirit of innovation and leadership that we champion across all of our work. This year, we honored El Pomar Foundation, the generous donor that has made our signature DIAALOGUES series of convenings possible.
Read More