IAALS to Host Forum and Engage Dialogue on Proposed Federal Rules Amendments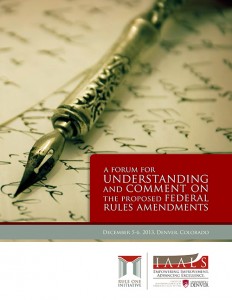 On November 7th, the Civil Rules Advisory Committee held the first of three hearings on the proposed amendments to the Federal Rules of Civil Procedure. The hearing, which took place in Washington D.C., provided an opportunity for the public to testify on the proposals as part of the public comment period, which runs through February 15, 2014. You can access a witness list from the hearing here. Two additional hearings will be held before the end of the comment period—in Phoenix, Arizona on January 9, 2014, and in Dallas, Texas, on February 7, 2014.
In an effort to provide input and offer comments with a fresh perspective, IAALS is hosting A Forum for Understanding and Comment on the Proposed Federal Rules Amendments in Denver, Colorado on December 5-6, 2013 for a small group of stakeholders from around the country. IAALS will engage the group of lawyers, academics, and judges in a dialogue about the proposed federal rule amendments, with the goal of identifying areas where there are divergent views and areas of consensus. The Forum is meant to provide an opportunity for discussion among those with a history of expertise and a stake in the federal civil litigation process, but who may not otherwise have a voice in the rulemaking and comment process to date. IAALS will compile the outcomes from the discussion in the form of comments to the Civil Rules Advisory Committee for its consideration, reflecting both the consensus and divergent opinions of the group.
To learn more about the Forum, click here.