IAALS Kicks Off Lawyers Council with Panel on Leadership and Reform
April 19, 2023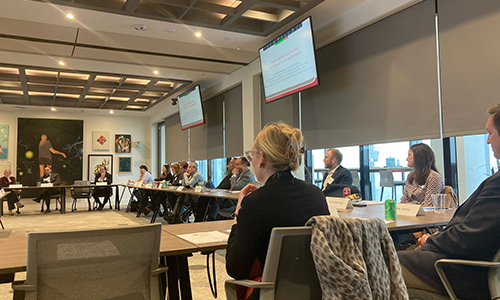 On Tuesday, April 4, IAALS held its first Lawyers Council meeting in downtown Denver. IAALS' Lawyers Council pulls together the members of our former Law Firm Council and Business Leadership Network to create a new national group of law firms and businesses whose members engage in IAALS' process while also providing insight into their experiences in the justice system to inform our work. 
At the meeting, IAALS hosted a panel featuring Hon. Adam Espinosa, Denver District Court Judge; Alexi Freeman, Associate Dean of Diversity, Equity, and Inclusion at University of Denver Sturm College of Law; Ryann Peyton, Executive Director of the Colorado Attorney Mentoring Program; and Carla van Dongen, Vice President – Counsel for State Farm Mutual Automobile Insurance Company. The panel tackled the topic of bench and bar leadership in times of crisis and reform. 
"It takes leadership to implement change, and we see the greatest progress and impact in jurisdictions where there is bench and bar leadership," said Brittany Kauffman, IAALS CEO and the panel's moderator. She asked the panelists how leadership—specifically in the area of reform—fits into their obligations as attorneys and judges. Judge Espinosa recalled the oath of admission every lawyer takes upon entering the legal profession, including the obligation to "use [their] knowledge of the law for the betterment of society and the improvement of the legal system." It's important, he said, to ask where can I make a difference? 
Over the last few years, we have seen innovation at an unprecedented scale and pace. However, we still have a crisis in access to justice, an increased demand for low-cost legal assistance, inequities in access, and deepening concerns regarding public trust and confidence. There is much work to be done to realize justice for all, and the panel recognized that we need transformative change on a broad scale—and leadership from the bench and bar to achieve this change. Freeman stressed the importance of recognizing where the profession is falling short and not being afraid to call that out, a sentiment that Peyton echoed. As a self-regulating profession, they said, attorneys and judges have an obligation to address those issues.
The panelists also covered the troubling topic of lack of diversity in the profession. The upcoming generation of lawyers is distinct—and in many ways, they're forcing the profession to confront longstanding issues. They're not willing to take jobs that don't align with what they value in a working environment, and instead are asking what employers can do for them. New lawyers, said Peyton, are coming into the profession wanting to create change, and they could be the catalyst to finally make progress on longstanding issues. But they'll need to work alongside older generations, who know the profession's pain points, in order to realize their vision for a more equitable, inclusive legal profession.  
When asked about takeaways from reform efforts, Judge Espinosa said he's learned that things move slowly. He began working with others on implementing an allied legal professionals program in Colorado in 2015; just last month, the state supreme court approved a new tier of legal service providers who will be able to practice in certain types of family law matters, such as divorce, custody, and protection orders. "I think that, with persistence and with focus, we can move the needle." 
Just as important to remember, however, is that the courts have the capacity to react quickly. The glacial pace of reform, van Dongen noted, juxtaposed with the rapid pace of innovation during the COVID-19 pandemic, is a source of both frustration and hope. And while institutional change can be daunting, there are still steps everyone can take as individuals. "Each of us can be leaders in our own spaces," said Amy DeVan, executive member of Wheeler Trigg O'Donnell and Lawyers Council member. 
A hallmark of IAALS' process is convening a range of informed perspectives, and our Lawyers Council members provide us with critical support, on-the-ground perspective, and valuable feedback on our work in progress. We are grateful to everyone who participated in this Lawyers Council meeting and all who join us in our mission to create a more accessible, accountable, and responsive justice system. 
For more information about Lawyers Council, please contact Amy Downing, IAALS Events and Partnership Manager, at 303-871-6649.