Colorado Supreme Court Approves Licensed Legal Paraprofessionals
April 5, 2023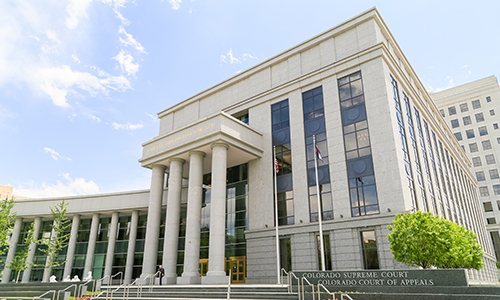 In March, the Colorado Supreme Court approved a program to license a new tier of legal service providers. These Licensed Legal Paraprofessionals (LLPs) will be able to practice in certain types of family law matters, such as divorce, custody, and protection orders.  
"LLPs have the potential to increase access to legal services for one of the largest segments of the access to justice gap—those who cannot afford a lawyer, but who also do not qualify for legal-aid assistance," Brittany Kauffman and Michael Houlberg wrote in a comment to the Colorado Supreme Court in September 2022. This gap is especially felt in family law, which has one of the highest rates of self-representation. In fact, according to the Colorado Judicial Branch, 74 percent of parties involved in Colorado domestic relations cases represented themselves in fiscal year 2022. 
Colorado's LLPs will be able to complete and file standard pleadings, represent clients in mediation, accompany clients to court, and answer the court's factual questions. In order to obtain a license, LLPs will have to complete 1,500 hours of substantive law-related practical experience (including 500 hours of experience in Colorado family law) and pass a written examination; they'll also be subject to character and fitness standards similar to those required of licensed attorneys. 
"Making it easier for people to secure legal representation in these often difficult matters has been a long-term goal of our commitment to ensuring access to justice for all Coloradans," said Colorado Supreme Court Chief Justice Brian Boatright. "Allowing non-lawyers to provide limited legal representation for people who otherwise couldn't afford it will not only help those litigants, but it will help the courts efficiently and effectively handle their cases."
With this program, Colorado joins a growing list of states, including Arizona, Oregon, and Minnesota, to allow allied professionals to offer legal services. (For a comprehensive look at how jurisdictions across the country are exploring the expansion of legal services through new tiers of legal professionals, please visit our Knowledge Center.) As more states look to professionals other than lawyers to close the justice gap, IAALS' Allied Legal Professionals project aims to help standardize these types of programs nationwide—ultimately expanding the options for accessible and affordable legal help. 
Colorado's program will launch in 2024. IAALS applauds the Colorado Supreme Court's leadership to bring affordable legal help to those who need it, and we hope to see momentum for these programs continue to grow across the country. 
Dive Deeper
Up and down the income scale, the legal needs of Americans are going unmet. Allied legal professionals hold a key to bringing more accessible and affordable legal help where it is needed most. Like nurse practitioners, allied legal professionals show great potential, and this project is working to grow these successful programs nationwide.
Read More