Oregon Joins Growing List of States Empowering Legal Professionals to Help More People
July 28, 2022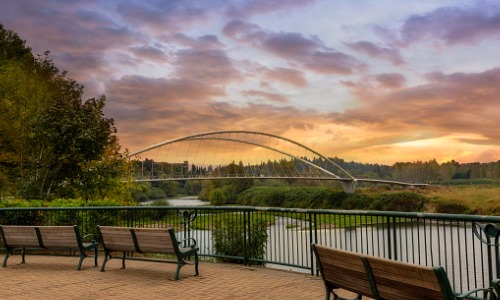 Last week, the Oregon Supreme Court approved a program that will license individuals who aren't lawyers to provide limited legal services in family law and landlord/tenant issues, two areas with the greatest unmet need for legal assistance in the state. This makes Oregon the fifth state in the country to enlist a new tier of legal professionals in the effort to provide more access to legal help.
Oregon's licensed paralegal (LP) program, which has been in the works since 2017, will train paralegals to assist with a variety of legal issues, including divorce and separation, custody and parenting time, child and spousal support, and forced entry and wrongful detainer. Some of their duties include:
Meeting with potential clients to evaluate and determine needs and goals, as well as provide advice
Filing documents and pleadings with the court 
Preparing for, participating in, and representing a party in settlement discussions, including mediation 
Attending court appearances and depositions with clients to provide support and assistance in procedural matters
According to the Oregon State Bar, "there are multiple pathways to determine the competency of eligible applicants under consideration, and it is likely that multiple pathways for paralegals from different backgrounds to receive a license will be available." To maintain their licenses, LPs will be required to meet continuing legal education requirements and have malpractice insurance, among other conditions. The program officially goes into effect in July 2023.
Per a recent Reuters article, "Oregon's paraprofessionals program enjoyed broad support from judges and the public . . . but some practitioners initially voiced concerns. Much of that opposition dissipated once attorneys learned more about how the program would work."
Lack of affordable and accessible legal services is a pervasive problem, widespread among both low- and middle-income Americans, and it will take creative and forward-thinking solutions to ensure access to justice for everyone who needs it. As IAALS Director of Special Projects Natalie Knowlton testified to the Oregon State Bar Board of Governors in December 2021, "We cannot volunteer ourselves out of this crisis. Nor can we stand by while waiting for unprecedented legal aid funding, the likes of which we have never seen. We must think about new services and new providers: Access to legal services can no longer be synonymous with access to a lawyer."
Fortunately, states like Utah, Arizona, and Minnesota have also embraced new tiers of legal professionals. As IAALS Manager Michael Houlberg explained to Reuters, "There's a big push. Since 2020, there have been more than 10 states that have developed proposals." Building on this momentum, IAALS' newly launched Allied Legal Professionals project aims to help standardize these legal professional programs nationally, in order to expand the options for accessible and affordable legal help for the public. Programs like Oregon's are exemplary of what we hope to eventually see spread even further across the country.
Dive Deeper
Up and down the income scale, the legal needs of Americans are going unmet. Allied legal professionals hold a key to bringing more accessible and affordable legal help where it is needed most. Like nurse practitioners, allied legal professionals show great potential, and this project is working to grow these successful programs nationwide.
Read More