IAALS' Comment In Support of the Proposed Oregon Legal Paraprofessional Licensing Program
December 1, 2021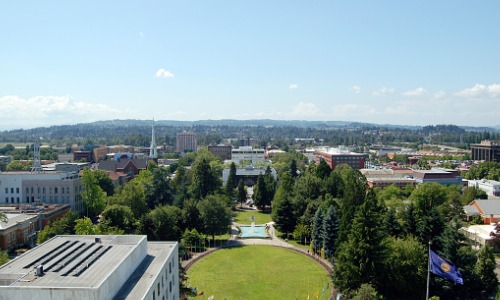 The comment below, based on spoken remarks, was submitted by IAALS to the Oregon State Bar Board of Governors on November 30, 2021, in support of the Proposed Oregon Legal Paraprofessional Licensing Program.
Hello, my name is Natalie Knowlton. I am the Director of Special Projects at IAALS, the Institute for the Advancement of the American Legal System at the University of Denver. We are a national non-profit research institute dedicated to continuous improvement in the American legal system. 
I am speaking today in support of the Proposed Oregon Legal Paraprofessional Licensing Program. And I commend the Oregon State Bar for pursing this innovative proposal. 
My colleagues and I have conducted national research on the experience of self-represented litigants, particularly in family law cases. In one of these major studies, we partnered with the Multnomah County Family Court, thanks to the leadership of Judge Maureen McKnight.(1) What we found is not surprising—good people and families trying to get through complicated processes.
Many wanted legal help but could not access it. Said one unrepresented litigant from Multnomah County, "It cost me 50 bucks to find out I couldn't afford a lawyer." Another, in talking about the cost of a lawyer, said "I'd much rather put that money toward supporting children than trying to fight to get them."
In fact, contrary to what the prior speaker said [sharing her opinion that clients want nothing less than licensed lawyers], our Cases Without Counsel interview protocol included a line of inquiry designed to assess whether study participants might have been receptive to receiving assistance from an authorized non-attorney professional. The response in favor was overwhelming.(2) 
"It's better to have someone that at least has some working knowledge of the system," said one individual, rather "than trying to navigate it alone when you know nothing." Another remarked, "When you're going through it, honestly, at that point, anybody—whether they're a lawyer or not—if they're qualified to give you that advice, you would appreciate it."
The Legal Paraprofessional Licensing Program is a real opportunity to help Oregonians. 
As you heard in the earlier presentation, other states and countries are figuring out ways to adequately train, appropriately supervise, and sufficiently regulate new categories of legal services providers. Of course, the Washington program is perhaps the most well-known of them all, and opponents will point to that program as evidence that the model does not work. But Washington's experience with implementing the model has no bearing on the paraprofessional model itself or on differing implementations of the model in other states.   
In voicing opposition, you will hear some in the legal community referencing notarios and giving other examples of unscrupulous actors operating outside current regulations who prey on the innocent public. This argument is a red herring, at best. The Legal Paraprofessional framework in the Oregon State Bar's proposal envisions an educated, trained, and regulated group of professionals—the exact opposite of the shady wild-card actors that are employed as a scare tactic to stop these kinds of innovation.   
On the topic of education, it bears mentioning that family law is not a required course in many law schools, nor is it one of the core tested subjects on the bar exam. Countless attorneys graduate every year and sit for the bar armed with only what they learned about family law in the prep course. As a licensed attorney, I am hard-pressed to understand how these lawyers are more qualified to serve simple domestic relations cases than proposed Legal Paraprofessional who will have undergone the thorough education and training outlined in the earlier presentation. 
We as a profession must move past our sense of superiority over other qualified professionals. We maintain this attitude to the detriment of the public. 
Finally, a word about pro bono and legal aid. There is no single solution to solve the justice crisis, and I can understand how complementary solutions must compete for scarce resources. But in the long and rich traditions of legal aid and pro bono, subsidized legal services have yet to successfully solve the justice crisis. We cannot volunteer ourselves out of this crisis. Nor can we stand by while waiting for unprecedented legal aid funding, the likes of which we have never seen. 
We must think about new services and new providers: Access to legal services can no longer be synonymous with access to a lawyer.
Thank you for giving me the opportunity to speak and thank you, again, for being leaders in legal services innovation. 
Endnotes:
1. Cases Without Counsel was a first-of-its-kind, multi-state qualitative empirical research study designed to explore experiences, behaviors, perceptions, and feelings from the participants' perspective and in the participants' own words. Through one-on-one interviews with self-represented litigants in family court and those in the court who interact with these litigants regularly (like judges, self-help center staff, and court clerks), IAALS systematically explored self-represented litigants' experience with the legal process. The study built on qualitative empirical research undertaken in Canada by Dr. Julie Macfarlane. Participating jurisdictions included (listed from West to East): Multnomah County, Oregon; Larimer County, Colorado; Davidson County, Tennessee; and Franklin County, Massachusetts. Learn more and download the reports at https://iaals.du.edu/projects/cases-without-counsel. 
2. This finding was presented in the recommendations report that supplemented the main research report: Cases Without Counsel, Institute for the Advancement of the American Legal System 29 (May 2016).