IAALS Partners with Law Firm Council to Support Mission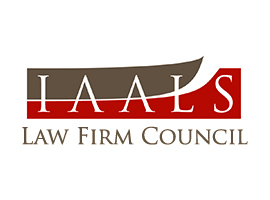 IAALS warmly welcomes and honors the founding members of its newly formed Law Firm Council (LFC). The LFC was formed in 2013 to provide a group of national firms who are invested intellectually and financially in IAALS' mission with an opportunity to have a voice in our work.
LFC members are an essential resource to IAALS as we seek to identify issues within the American legal system and forge practical solutions to them. Working directly with attorneys allows IAAS to remain timely and relevant in our approach. And, this partnership with IAALS provides members with a variety of benefits as well—educational, business development, networking, and philanthropic.
Members of the LFC meet at least twice a year to provide IAALS with substantive feedback on specific projects and content. In addition, there are project-specific meetings and exchanges between LFC members and IAALS staff throughout the year.
Greg Kerwin, Litigation Partner at Gibson Dunn, is the Chairman of the LFC. IAALS deeply appreciates the support and confidence of the following founding firms:
For information about joining the IAALS Law Firm Council, please contact Barbara Blackwell, Senior Director of Strategic Partnerships, at Barbara.Blackwell@du.edu or (303) 871-6613.