IAALS Welcomes Three New Board Members; Says Farewell to Two
IAALS is privileged to benefit from the expertise of a diverse board of advisors that includes judges, practitioners, and others committed to our mission: the continuous improvement of the civil justice system. At the close of 2012, we said farewell to two board members: Justice Patricio Serna and Sue Dosal.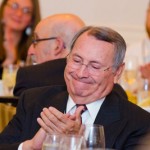 New Mexico Supreme Court Justice Patricio Serna served on our board since we opened our doors in 2006. He retired from New Mexico's Supreme Court in August 2012. He joined the Court in 1996 and served as its Chief Justice for two years.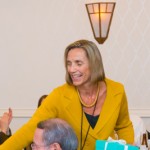 Sue Dosal retired from the Minnesota state courts in 2012. She served as state court administrator for the State of Minnesota since 1982.
We honored them at our annual dinner in October and wish them both rewarding retirements.
On January 1, 2013, we welcomed three new board members: Judge Lee Rosenthal, Alan Carlson, and Sheila Slocum Hollis.
Judge Lee H. Rosenthal was appointed a United States District Court Judge for the Southern District of Texas, Houston Division in 1992. Before then, she was a partner at Baker & Botts in Houston, Texas, where she tried civil cases and handled appeals in the state and federal courts. Chief Justice Rehnquist appointed Judge Rosenthal as a member of the Judicial Conference Advisory Committee on Civil Rules in 1996. Read more.
Alan Carlson was appointed the Chief Executive Officer of the Orange County (CA) Superior Court in September of 2008.  As the court administrator, clerk of court, and jury commissioner of a unified state trial court of general jurisdiction, he oversees operations with 124 judges and 20 commissioners sitting in seven court locations. Mr. Carlson previously served as president of the Justice Management Institute, an independent, non-profit organization that provides technical assistance, workshops, research, professional publications and continuing education programs to improve the administration of justice. Read more.
Sheila Slocum Hollis is chair of the Washington, D.C. office of Duane Morris LLP and serves on the firm's Executive Committee and Partners Board. Ms. Hollis practices in the areas of energy transactional and regulatory law and international and administrative law before government agencies, Congress and other entities. Ms. Hollis has received numerous honors throughout her career, including being named one of the 50 Key Women in Energy Worldwide and the 2011 Lifetime Achievement in Energy in Platt's Global Energy Awards. Read more.