IAALS Welcomes Three New Programmatic Staff Members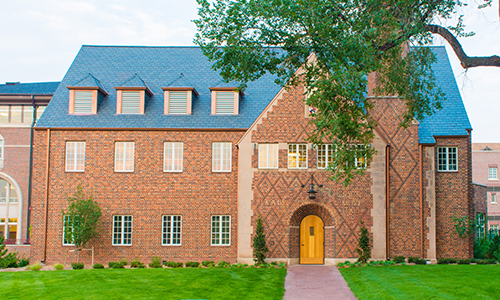 We have never been busier at IAALS, with projects and convenings ramping up across all of our focus areas. To help facilitate this work and expand our impact nationwide, we are pleased to welcome three new staff members to our ranks.
Jonna Perlinger joined IAALS in March as a legal assistant in the areas of legal education and the legal profession, and she also works directly with the IAALS research team. Before coming to IAALS, Jonna worked full time as a legal assistant for a criminal defense and family law firm during her undergrad years, and served as the Transportation and Telecommunications Committee Clerk for the Nebraska State Legislature under current U.S. Senator Deb Fischer. She also worked for the University of Denver Sturm College of Law as a legal assistant in Clinical Programs, serving both faculty and students.
Michael Houlberg joined IAALS in June as a manager for special projects at IAALS, including Court Compass and the Family Justice Initiative. Michael's legal career has spanned both private and nonprofit organizations. He has worked for Towards Justice, a Colorado nonprofit organization that fights for workers who have experienced wage theft; Pollart Miller, LLC, where he litigated claims on behalf of employers and insurance companies; as well as the National Center for State Courts, where he worked on projects that involved the implementation of a statewide case management system and the creation of a juvenile court specifically tailored to youth involved in gun violence.
Jason Zolle also joined IAALS in June as a manager, working across our state and federal civil-focused projects, including the Civil Justice Initiative, discovery protocols, and dispositive motions. Jason previously clerked for the Honorable Corinne A. Beckwith on the D.C. Court of Appeals and the Honorable Ronald M. Gould on the U.S. Court of Appeals for the Ninth Circuit. He then returned home to Denver to work for the appellate division of the Colorado Public Defender, where he litigated criminal appeals in the Colorado state court system. Jason has also taught courses on constitutional law and criminal justice reform as an adjunct with the University of Denver Department of Political Science.
IAALS' staff has transformed over the last few years, rounded out with other partners, consultants, and fellows across the country—all dedicated to forging innovative and practical solutions to the problems facing the American legal system. We are lucky to work together—and to work with you!