Igniting Innovation: First Day Presenters Announced for 2017 ETL Conference
August 23, 2017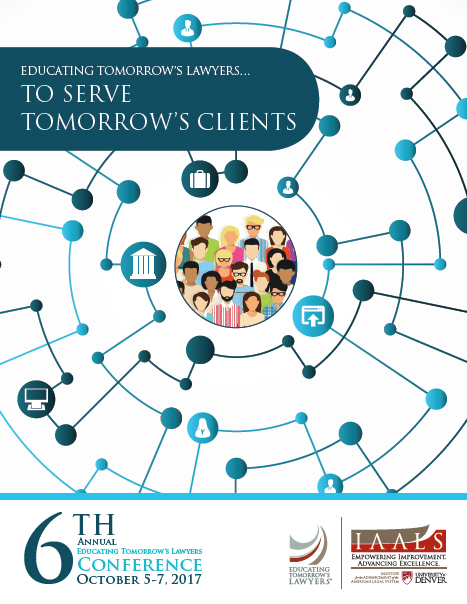 The 6th Annual Educating Tomorrow's Lawyers Conference is right around the corner! In addition to our fantastic lineup of program speakers, we are excited to have fifteen Ignite presentations from a broad swath of law schools and legal organizations. As you may know, it has become ETL Conference tradition to kick off the first day of the conference with a series of Ignites. Presenters have 6 minutes, 20 slides, and 18 seconds per slide to share their projects, successes, and ideas. At this year's conference, we will hear from the following legal educators and professionals:
Christine E. Cerniglia
Director of Clinical and Experiential Education, Stetson University College of Law
"Serving the community and students through courthouse self-help desks"
Robert D. Dinerstein
Professor of Law and Associate Dean for Experiential Education; Director, Disability Rights Law Clinic, American University Washington College of Law
"Structuring Student Self-Assessment to Prepare Entry-Level Lawyers: Student Self-Assessment Criteria and Rubrics in the WCL Disability Rights Law Clinic"
Elizabeth M. Fraley
Assistant Professor of Law, Baylor University School of Law
"A Blueprint for Success: Helping Recent Grads Improve Access to Justice by Starting Their Own Firms – The Right Way!"
Robert R. Furnier
Director, Lunsford Academy for Law Business + Technology, Chase College of Law, Northern Kentucky University
"Educating Tomorrow's Lawyers as Tech Entrepreneurs: Learning to Serve Tomorrow's Clients by Building Technology"
Edward T. Hart
Assistant Dean for Law Library and Assistant Professor, UNT Dallas College of Law
"Alternative Legal Research: Going Beyond Wexis!"
Leah Witcher Jackson Teague
Associate Dean and Professor of Law, Baylor University School of Law
"Lawyers are leaders: Shouldn't law schools better prepare students for this role, especially now?"
Kate Kruse, Professor of Law, Mitchell Hamline School of Law
Leanne Fuith, Dean of Career and Professional Development, Visiting Assistant Professor, Mitchell Hamline School of Law
Ana Pottratz Acosta, Clinical Instructor and Assistant Teaching Professor, Mitchell Hamline School of Law
"Client Contact from Day One: Preparing Law Students Early to Serve Client Needs"
Stephanie S. Ledesma
Assistant Professor of Law and Director of Experiential Learning Programs, Texas Southern University Thurgood Marshall School of Law
"Teaching Cultural Compassion"
Karen M. Lockwood
Executive Director, National Institute for Trial Advocacy (NITA)
"Conversations With Your Uber Driver – what people won't talk about, tomorrow's lawyers, great divides"
Michael J. Madison
Professor and John E. Murray Faculty Scholar; Senior Scholar and Academic Director, University of Pittsburgh Institute for Cyber Law, Policy, and Security; Faculty Director, Innovation Practice Institute, University of Pittsburgh School of Law
"Teaching Leadership From the Bottom Up"
John Mayer
Executive Director, Center for Computer-Assisted Legal Instruction (CALI)
"Can Experiential Learning Solve the Access to Justice Problem?"
Megan Riesmeyer, Clinical Professor; Director, Community Law Clinic, Pennsylvania State University Dickinson Law
Lucy Johnston-Walsh, Professor of Clinical Law; Director, Children's Advocacy Clinic; Director, Center on Children and the Law, Pennsylvania State University Dickinson Law
"Advanced Clinic, Advanced Preparation"
Charles H. Rose III
Director, Center for Excellence in Advocacy; Professor of Excellence in Trial Advocacy, Stetson University College of Law
"Simulated Client Experiences in Advocacy Competitions"
Rona Sisson
Oxford Legal LLC
"Find Yourself, Find Your Clients: Lessons from Carl Linneaus and an Introduction to the study of Legal Taxonomy"
Stephanie Wilson
Head of Reference Services, Law Library, Seattle University School of Law
"Law Librarians Embedding in Clinical Courses"
Interested in hearing these presentations and others, all focused on Educating Tomorrow's Lawyers… to Serve Tomorrow's Clients? Head over to our registration page to learn more about attending the conference in Denver from October 5-7!
Dive Deeper
As the institutions entrusted with educating lawyers, law schools are uniquely positioned to ensure that new lawyers are not only prepared to enter the profession, but also to serve clients. The 2017 Educating Tomorrow's Lawyers Conference put clients front and center by exploring client needs; by showcasing lawyers, organizations, and others leading the way to improved delivery of legal services; and by tapping into the collective wisdom of innovative legal educators to bring these concepts to life in law schools..
Read More