Indiana Family Law Taskforce Will Consider IAALS-Supported Recommendations
December 4, 2019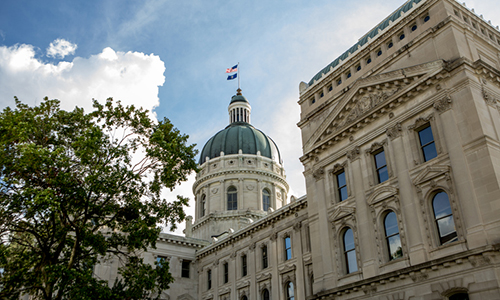 In late September, the Indiana Supreme Court announced the creation of the 13-member Indiana Innovation Initiative. The initiative was established "to analyze research on justice reform, assess the impact of reform efforts in other states, identify innovative strategies to manage different case types, and make recommendations to the Indiana Supreme Court for best practices surrounding Indiana's justice system structures and procedures."
Some of the responsibilities of the initiative will include:
Analyzing the research on justice reform
Assessing the impact of reform efforts in other states
Identifying, mapping, and analyzing commonalities and differences in subject matter and process in criminal, civil, family, and child welfare justice systems
Identifying innovative strategies (such as technology) to manage different case types
Developing specialized procedures for different types of cases involving differing levels of complexity
Additionally, the court has ordered the creation of two subgroups: the Family Law Taskforce and the Technology Working Group. The Family Law Taskforce will assess the Family Justice Initiative (FJI) Principles, which outline ways to better handle domestic relations matters; FJI is spearheaded by the Conference of Chief Justices and the Conference of State Court Administrators and is being supported by IAALS, the National Center for State Courts, and the National Council of Juvenile and Family Court Judges. The Technology Working Group will assess business procedures and innovative technologies in other jurisdictions and in commercial enterprises.
The aforementioned principles were created with the reality in mind that domestic relations cases—and the parties involved in them—are all unique, and adversarial court processes and traditional approaches to managing these cases may not be optimal for healthy family reorganization. So, while courts do have the ultimate responsibility for managing domestic relations cases, they should also empower both parties to take an active role in determining and implementing a plan that is best suited to that family's individual situation and needs. The principles also encourage courts to use innovative and appropriate technology solutions whenever possible to ease the burden on parties in family matters. 
The order establishing the initiative lauds Indiana's national leadership when it comes to justice reform, evidence-based decision making, pretrial release, problem-solving courts, and commercial courts.
The taskforce and working group expect to provide reports with findings and recommendations by March 2021.
Dive Deeper
The Family Justice Initiative has released a final report with Principles for Family Justice Reform that cover a broad spectrum of improvements to the way domestic relations cases are handled. The Conference of Chief Justices has approved the Principles.
Read More