Integrating More Professionalism and Ethics into Law School Curriculum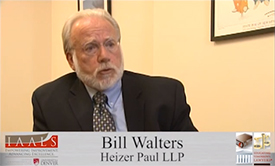 In his Voices from the Field interview, Bill Walters, Partner at Heizer Paul and former president of the Colorado Bar Association, suggests that law schools need to expose students to the various career options they have following law school, which extend far beyond the traditional big firm practice of law. For example, dual degree programs, like dual J.D./M.B.A. programs, allow law students to use the skills they've learned in combination with business skills to potentially and more successfully run a business after graduating.
As to better preparing law students for practice, Walters suggests that the first year curriculum should remain largely traditional through use of the Socratic method and fundamental courses. However, in the second and third year of law school, professors should use different pedagogical methods to teach students, like experiential course offerings. Walters also underscores the importance of having practicing attorneys teach students.
Finally, Walters advocates for integrating more professionalism and ethics into law school curriculum to help produce law school graduates that are better prepared for the practice of law and serving clients. He suggests that schools need exposure to these issues beyond the Rules of Professional Conduct. By "infusing" the curriculum with ethical issues, students can better understand the issues in the context of practice. Walters suggests that a student who attends a law school that emphasizes professionalism by modeling ethical behaviors will have an advantage interviewing with law firms and will increase the potential for the student to get hired.
Hear more of Bill Walters' suggestions for reforming legal education in his Voices from the Field interview below.
William E. ("Bill") Walters, III, has practiced law for more than 36 years in Denver, Colorado. His practice focuses on advising nonprofit organizations, trade and professional associations, and for-profit business entities. Bill also has expertise in antitrust and trade regulation law.
From 1978 to 1981, Bill was an Assistant Attorney General for the State of Colorado. He was President of the Denver Bar Association from 2001 to 2002 and is a former Chair of the Colorado Lawyers Committee. He was President of the Colorado Bar Association from 2008 to 2009 and served on its Executive Council and Board of Governors for many years.