Introducing Our Newest Team Members Powering Transformation in the Legal System
July 18, 2023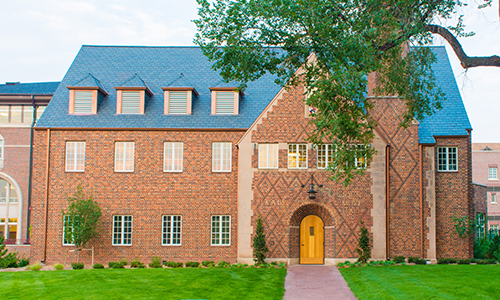 IAALS is experiencing an exciting surge of activity across all our areas of work, with projects and convenings on the rise. As we strive to expand our impact nationwide and tackle the pressing challenges facing the American legal system, we are thrilled to introduce two remarkable individuals who have recently joined our team, further strengthening our efforts.
In June, Amy Livingston returned to IAALS as our Director of Development. Amy previously served in this role from 2021 to 2022 and is thrilled to rejoin IAALS. We are delighted to have her back, bringing with her over 25 years of fundraising experience in the nonprofit sector, at a time when IAALS is prioritizing significant revenue growth to support our surge of activity to reshape the legal system for the greater good. Throughout her career, Amy has consulted with nonprofit clients and philanthropists, securing multiple transformational gifts. Her expertise as an executive leader, strategic thought partner, and philanthropic advisor will greatly contribute to advancing our mission—and she has already hit the ground running, connecting with our staff, partners, and donors to ensure that IAALS, as a national, nonprofit research center, grows charitable gift revenue to accelerate impact. Amy's passion for building comprehensive solutions to systemic issues in the legal system, coupled with her commitment to innovation and collaboration, make her an invaluable asset to our organization.
In addition, Danielle Kalil joined IAALS in July as our new Director of Civil Justice and the Judiciary. With a background as a legal aid attorney and a visiting assistant clinical professor at the University of Michigan Law School, Danielle is deeply committed to advancing access to justice. In her role, she will lead our efforts in civil justice reform and the judiciary, working towards a more accessible, fair, efficient, and accountable civil justice system. Danielle's strategic planning skills, innovative mindset, and experience in legal practice greatly enhance the strength and capabilities of our team. She has represented clients from diverse backgrounds in various civil legal areas, gaining firsthand exposure to the barriers and inefficiencies in the civil legal system. Danielle's dedication to improving fair and equitable access to the legal system is exemplified through her work in developing and launching the Human Trafficking Lab, where she has led teams of graduate students to design innovative projects aimed at addressing systemic issues. Her ability to work with diverse stakeholders and her commitment to justice and equity align with IAALS' mission, and we are excited for her to join this team and lead this area of work.
Together, Amy and Danielle bring broad expertise and a shared dedication to forging innovative and practical solutions to the problems facing the American legal system.
With our dynamic team of staff, partners, and consultants across the country, IAALS is poised to continue making a lasting impact. We are fortunate to work alongside such talented individuals, and we look forward to collaborating with them and with you as we continue our mission of transforming the legal landscape.