Judges Aren't Sexy: New IAALS Toolkit Helps States Educate Voters about Judges
May 11, 2016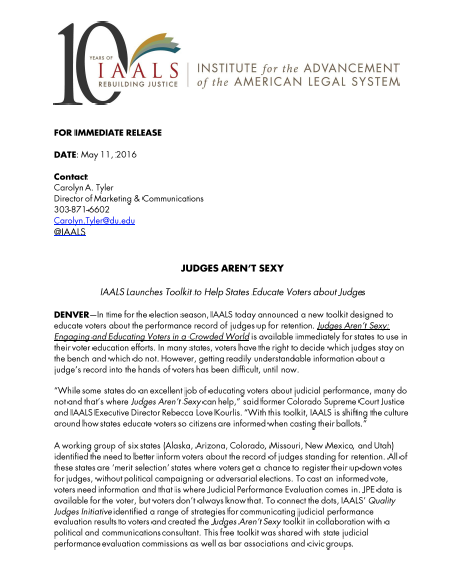 In time for the election season, IAALS today announced a new toolkit designed to educate voters about the performance record of judges up for retention. Judges Aren't Sexy: Engaging and Educating Voters in a Crowded World is available immediately for states to use in their voter education efforts. In many states, voters have the right to decide which judges stay on the bench and which do not. However, getting readily understandable information about a judge's record into the hands of voters has been difficult, until now.
"While some states do an excellent job of educating voters about judicial performance, many do not and that's where Judges Aren't Sexy can help," said former Colorado Supreme Court Justice and IAALS Executive Director Rebecca Love Kourlis. "With this toolkit, IAALS is shifting the culture around how states educate voters so citizens are informed when casting their ballots."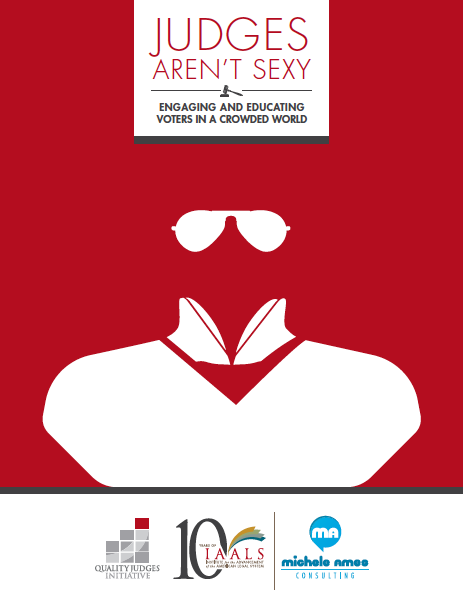 A working group of six states (Alaska, Arizona, Colorado, Missouri, New Mexico, and Utah) identified the need to better inform voters about the record of judges standing for retention. All of these states are 'merit selection' states where voters get a chance to register their up-down votes for judges, without political campaigning or adversarial elections. To cast an informed vote, voters need information and that is where Judicial Performance Evaluation comes in. JPE data is available for the voter, but voters don't always know that. To connect the dots, IAALS' Quality Judges Initiative identified a range of strategies for communicating judicial performance evaluation results to voters and created the Judges Aren't Sexy toolkit in collaboration with a political and communications consultant. This free toolkit was shared with state judicial performance evaluation commissions as well as bar associations and civic groups.
"Colorado is adopting the recommendations of the Judges Aren't Sexy Toolkit so that voters have the information they need in a format that works for them and can better decide on whether to retain a sitting judge. This is creative voter empowerment," said Kent Wagner, Executive Director of the Office of Judicial Performance Evaluation with the Colorado Supreme Court. "Colorado was involved early in process so it makes sense that we are the first state, yet hopefully not the last state, to implement IAALS' toolkit."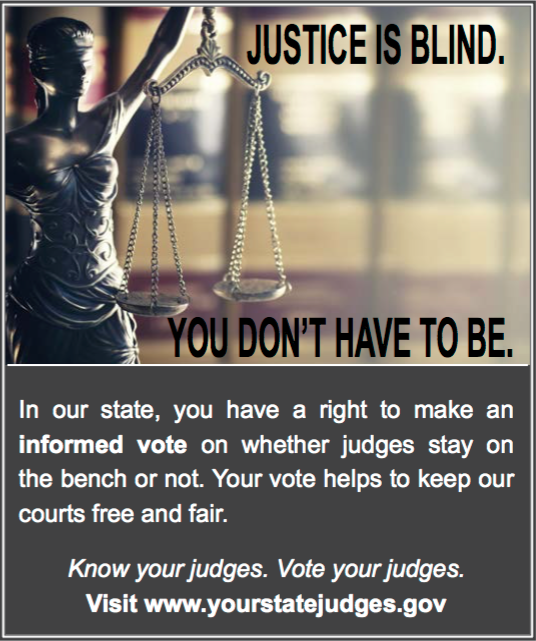 The toolkit offers:
Templates for the presentation of statewide and individual judge results;
Communication strategies and assets for social media;
Recommendations for coalition building and grassroots outreach; and
A customizable messaging platform.
IAALS' Quality Judges Initiative partners with retired U.S. Supreme Court Justice Sandra Day O'Connor as her legacy project to ensure the ways we choose, evaluate, and retain judges in America balance the need for fair and impartial courts with the need for public accountability and transparency.
Dive Deeper
In collaboration with a political and communications consultant, IAALS identified a range of strategies for communicating Judicial Performance Evaluation results to voters, including coalition building, messaging platforms, and social media.
Read More