Judicial Impeachment Threat Looms in Oklahoma
April 30, 2014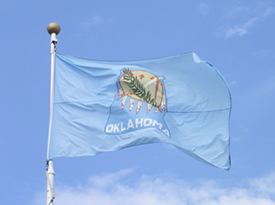 Inter-branch tensions in Oklahoma have escalated in recent days over the state supreme court's handling of a death penalty appeal. A member of Oklahoma's house of representatives filed articles of impeachment against five supreme court justices who voted to stay the execution of two death row inmates. The court ultimately lifted the stay, but the legislator plans to pursue impeachment on the grounds that the supreme court exceeded its authority in issuing the stay. According to Republican Rep. Mike Christian, "This is a case of our state's judges inserting their personal biases and political opinions into the equation." Governor Mary Fallin also charged the court with exceeding its constitutional mandate.
The inmates had filed a civil suit seeking the source of the chemicals to be used in the lethal injection. The fact that the case involved a civil suit related to a criminal case raised legal uncertainty as to the appropriate court to hear the case. Oklahoma is one of only two states (Texas is the other) with two courts of last resort—the supreme court for final appeals of civil cases and the court of criminal appeals for criminal matters.
Tension was already brewing between the legislature and the high court over a 2013 decision that struck down a comprehensive lawsuit reform measure. The ruling initially prompted Speaker T.W. Shannon to call for a legislative study of judicial term limits. This session, before resigning from the state legislature to run for the U.S. Senate, Shannon sponsored at least eight bills that would have altered the selection and tenure of the state's appellate judges. The proposals expired after his departure, but a few retaliatory bills remained on the legislative agenda.
Last week, the house of representatives rejected a senate-approved bill that would have altered the selection of lawyer members of the state's judicial nominating commission. Six of the commission's 15 members are lawyers who are elected by the state bar, and the proposed statute would have allowed the speaker of the house and the president pro tem of the senate to make these appointments instead. Two other court-related measures were allowed to die this session, one which would have authorized the governor to appoint, with senate confirmation, the chief justice and the other which would have imposed twenty-year term limits on appellate judges.
These events may set the stage for an organized retention challenge in November. Three justices are on the ballot, and all three were in the majority in issuing the lethal injection stay and rejecting the lawsuit reform law. When four justices were challenged in 2012, based on negative ratings from the state chamber, the state bar association spent $400,000 in their defense. All four were retained.