#KnowYourJudge: States Around the Country Offer Information About Judges on November Ballot
October 7, 2014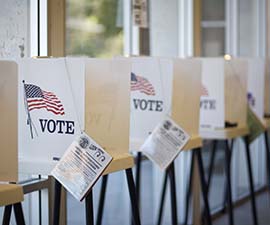 Public opinion polls consistently show that voters know very little about judges and judicial candidates on the ballot and wish they had more information. Around the country, judicial branch entities, state bar associations, and other groups are working to change that.
In November, eight states will choose supreme court justices in contested elections, and justices will stand for retention in fourteen states. In many of these states, voters will have the benefit of objective assessments of the performance of incumbent judges, and in some instances, the qualifications of their challengers.
In six states where judges are standing in yes/no retention elections—Alaska, Arizona, Colorado, Missouri, New Mexico, and Utah—official judicial performance evaluation (JPE) programs are providing citizens with impartial assessments of judges' performance on the bench. These evaluations are typically based on surveys of attorneys, other judges, court staff, and court users; courtroom observation for trial judges; written opinion review for appellate judges; and case-processing statistics. Some of these states are using a common hashtag, #KnowYourJudge, to brand their voter information efforts on social media and ensure wider dissemination.
A variety of entities in states without an official JPE program are providing voters with objective ratings of judges on the ballot. In Kansas, where the JPE program was defunded two years ago, a group of attorneys, legal academics, court professionals, and citizens formed a coalition to evaluate appellate justices standing for retention. In a number of other retention and contested election states, including Florida, Illinois, Indiana, Iowa, Ohio, Nebraska, North Carolina, and Wyoming, the state bar association is offering attorney ratings of judges. The VotingforJudges.org site in Washington gives a variety of information about both incumbent justices and challengers, including the identity of their campaign donors.
Several other states conduct official performance evaluations of judges for the purpose of facilitating judicial self-improvement, informing re-selection decisions, and promoting public confidence in the judiciary. For more information about these programs, visit IAALS' website.