Law Day 2023: Stronger Solutions Together
May 1, 2023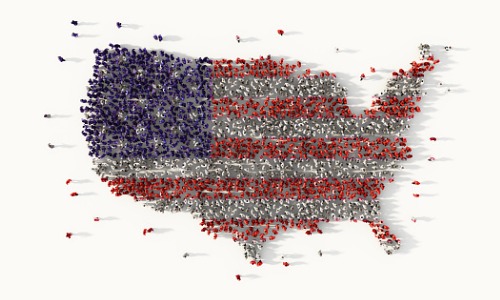 This year, the American Bar Association (ABA) is celebrating Law Day with the theme "Cornerstones of Democracy: Civics, Civility, and Collaboration." These sentiments are at the heart of IAALS—what we do, how we do it, and why this work is so critical.  
Civics efforts are crucial to informing and empowering the public as to our country's history and its democratic processes, which in turn sustains confidence in our judiciary and its ability to provide justice for all. In Chief Justice John Roberts's 2019 year-end report, he lauded the importance of civic education: "Civic education, like all education, is a continuing enterprise and conversation. Each generation has an obligation to pass on to the next, not only a fully functioning government responsive to the needs of the people, but the tools to understand and improve it." 
However, this commitment to civics has to be coupled with system improvement, so as to create a system that earns the trust of the people—and is indeed trustworthy. At a time when public trust and confidence is at historic low levels, we laud civics education. But we also challenge ourselves and others to continue to innovate and strive for a justice system that meets its ideals of equality and justice under law.  
As we work toward this systemic change, IAALS strives to bring people together and create the environment for a productive conversation, especially in these divisive times. Convening people—and getting viewpoints and buy-in from all stakeholders—is critical to IAALS' process. In this day and age, we need safe spaces where people who disagree can come together, look at the data, listen respectfully and with civility, and then develop practical solutions to the big challenges facing our justice system. In IAALS' publication Change the Culture, Change the System, we recognize that incivility can lead to wasted time and money for clients, lawyers, and the court. We need to continually strive for a collegial and civil profession in order to best serve people, our communities, and the justice system to which we are stewards. Lawyers and judges have to rise above and remain committed to the rule of law and administering fair, impartial justice. 
"We are professionals, we are dedicated to the rule of law and to a fair system, and we must work together not only on a case-by-case basis, but also more broadly to achieve the common goal of a just, speedy, and inexpensive determination in every action."
And, at the heart of this work (and one of the hallmarks of IAALS' process) is collaboration, both through partnering with other organizations and convening diverse perspectives on the biggest issues facing our justice system. We work with partners, experts, stakeholders, and users of our system around the country to achieve our mission. From national organizations like the ABA to international organizations like HiiL, from judges to court staff, from the academy to the legal profession, and including users of the system itself, we tap as many minds as possible and seek feedback and expertise almost every step of the way. No single person can answer the complex challenges facing our justice system as it transforms to meet the needs of society today. However, by getting the right people working together, we get closer to finding solutions. 
One of the key ways that IAALS provides a forum for these conversations is through convenings focused on tackling specific problems. By convening diverse stakeholders from all sides, perspectives, and experiences, we can have open, honest, and civil conversations, reaching solutions to complex problems together. We host convenings to tackle a variety of problems, and it has been my experience that people leave our convenings feeling energized, inspired, and equipped to take on some of the biggest challenges in our justice system. Our newly relaunched Lawyers Council provides another opportunity for these collaborative discussions. This national group of law firms and businesses engage in IAALS' process, while also providing insight into their experiences in the justice system to inform our work and provide "on-the-ground" perspectives.
In celebrating Law Day, the ABA invites "all the people of the United States to join us in rebuilding trust in our institutions, respect for one another, and our willingness to collaborate to address the challenges that face our nation." At IAALS, we invite you to join in this goal with us year-round. Our strength lies in the fact that we're willing and proactive about reaching across the aisle to find solutions. Being informed, civil, and collaborative is a key part of that process—and it is also critical to the change that is essential in our justice system. Given the enormity of the problem, we have to work together.