LawyerSlack: An Informal Survey of Career Paths, Helpful Jobs, What to Avoid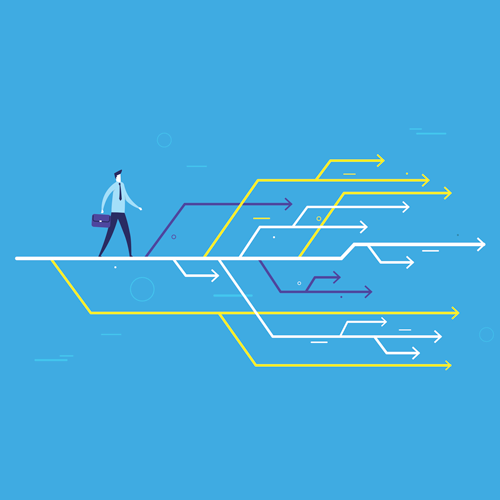 A while back, Alli Gerkman wrote about the importance of life experience for new lawyers. She noted that "lawyers responding to our Foundations for Practice survey indicated that 'life experience between college and law school' was helpful in identifying that a new lawyer has the foundations (characteristics, professional competencies, and legal skills) that they believe are important. Almost 30 percent said 'life experience between college and law school' was 'very helpful'; another 49 percent said it was 'helpful.'"
But lawyers often don't discuss these experiences on resumes or in interviews. They try to keep their background "strictly legal." But the Foundations survey indicates that employers are looking for new hires that have grit, work ethic, and experience. And if you're a young lawyer, likely the only place you can draw on past experience is non-legal jobs.
Along those lines, I recently asked the people in LawyerSlack.com (the largest, private, lawyers-only Slack community) about their work history and experience.
What was your career path?
Was there a job that helped prepare you for legal practice?
Anything people should absolutely avoid?
It generated an enormous response (6500 words) from the community. These are lawyers from across the country and every corner of the industry. Big law to solo, in-house to government. We'll be running a few blog posts that provide insight on the career path that many lawyers have taken to end up where they are today. They'll likely inform and surprise you.
To kick things off, I'll go first.
Mowing lawns, car wash, retail at tennis pro shop, library clerk, substitute teacher, law clerk, then finally, lawyer.
Oddly enough, working at a car wash gave me perspective on lots of things that seem related to legal practice in hindsight. It's where I first learned to really deal with customers and the importance of managing expectations. It was also just a grind at times. Work an 8am to 6pm shift on a Saturday in the middle of an Alabama summer—100° and humid as a swamp. On asphalt, washing 500 to 600 cars over the course of the day. Legal research, drafting, and interacting with clients is nothing in comparison.
I'd avoid not working. It seems like a trend in recent years is to fill up all your free time with volunteering, academic events, sports, music, etc. But there is a lot to be said for just being in a job (that perhaps you really don't enjoy too much) and learning how to deal with customers, co-workers, and the like.
And, here are a few excerpts from the wider survey:
LawyerSlack user:
First job was changing oil in a quick oil change. Taught me how to sell effectively, without being over-salesy. Worked that job from 14 through college.
Honestly, best training I got was being the recruitment chair and then president of my fraternity. Nothing teaches you how to handle people like trying to motivate a bunch of people that have no incentive to go along with your plan. In law school, I worked some random internships with a judge, the U.S. attorney, and an insurance firm. Taught me the nuts and bolts of how to practice at a very basic level. I started my solo practice the day after I passed the bar. Been doing this ever since. Best advice: find a niche and work it. However, don't get tunnel vision. Learn how to develop business, talk to people, and learn how businesses work. The job of a partner is vastly different from that of an associate.
Avoid any job that doesn't build some skill set. I learned sales from being an auto tech. I learned management from running a fraternity. The only worthless job I ever worked was as a lifeguard one summer.
LawyerSlack user:
I held a number of odd jobs in high school and undergrad. I did some construction and painting work, worked as a cashier in a convenience store, I worked one summer as a community college janitor, I was a medical specimen courier for the Health Department (driving around town in a car full of blood), and a telemarketer. Immediately before going to law school, I worked in a tech support call centre doing inbound customer service stuff. Not really a linear path, just assorted employment where I could find it. I took a direct high school -> undergrad -> law school route with no time off in between.
Customer service work, definitely. Dealing with difficult people is something every lawyer should master. I would also say that some of the more humbling work (i.e. janitorial/couriering) was good for relating to the average client, rather than living consistently above the blue-collar realm. There's something to be said for having some experience living and working in the real world.
Criminal activity, I guess?