LawyerSlack Part 2: Prioritizing Life Experiences, Grit, Customer Service
This is the second in a series of posts that looks at lawyer career paths and what could help or hinder a legal professional's development. Read Part 1 here.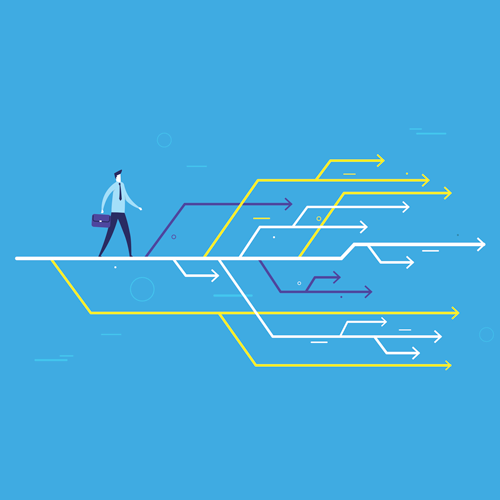 With nearly 30 percent of lawyers responding to our Foundations for Practice survey indicating that "life experience between college and law school" was "very helpful" (and another 49 percent saying it was "helpful"), why don't lawyers discuss these experiences more on resumes or in interviews? The focus generally is to keep their background "strictly legal," but the Foundations survey indicates that employers are looking for new hires that have grit, work ethic, and experience. And if you're a young lawyer, likely the only place you can draw on past experience is non-legal jobs.
Along those lines, Keith Lee recently asked the people in LawyerSlack.com (the largest, private, lawyers-only Slack community) about their work history and experience.
What was your career path?
Was there a job that helped prepare you for legal practice?
Anything people should absolutely avoid?
It generated an enormous response (6500 words) from the community. These are lawyers from across the country and every corner of the industry. Big law to solo, in-house to government. They'll likely inform and surprise you.
Here are my responses.
1. Plumber's Assistant, Small engine repairs, Short Order Cook, School district maintenance worker, Construction Worker, Library Assistant, Jazz Club Host, Legal Assistant, Logistics Manager for truck rack company, Paralegal, Law Clerk-Intern at Arkansas Supreme Court, Paralegal, Lawyer, Manager at IAALS.
2. Although it didn't seem like it at the time, each job I had helped prepare me for practice, in one way or another. My background as a paralegal certainly provided me the opportunity to read and understand motions and case law, learn how lawyers handle problems for sophisticated clients, and to peek into the business and organization of a law firm. But I think the most fruitful experiences I had involved jobs that required face time with people and an ability to adapt to changing circumstances. Working as a short-order cook, or as a host at a jazz club, required me to be flexible in often fast-paced environments, which really benefitted me by the time I made it to law school because I brought with me some ability to roll with the punches and remain collected (and even civil) in arguments or disputes. I developed a balanced perspective on organization and improvisation—two key abilities I needed to succeed as a lawyer. I should also say that my construction jobs taught me the definition of hard work, humility, discipline, and grit—perspectives that sharpened my focus on long projects (and the all-nighter brief writing escapades).
Speaking of grit, sometimes mother nature intervenes and sets you on an entirely new course. I started law school at Tulane, but then had to leave New Orleans when Hurricane Katrina hit, and I ended up in Little Rock with the very kind and generous family of a fellow criminal law student. It was a tough spot, but I managed to make the best of it when I happened to meet people who worked at the Arkansas Supreme Court, which ultimately led to my working as a clerk-intern for a Supreme Court Justice there. I was able to learn about law and the legal profession from within the court, where I conducted legal research, wrote analysis, and attended meetings with the Justice and her clerks—all before completing my first semester of law school.
3. Things to "absolutely" avoid may be too strong, but sticking with jobs that only reinforce your personal inclinations may not be the most fruitful approach. From my experience, finding jobs that take you a bit outside your comfort zone will help you develop skills you need later and also bump up your confidence in handling issues you're not so sure about. So, if you are already organized and appreciate routine, find something that requires you to deal with a little chaos every now and again, and vice versa. Also, just working, by itself, is useful for developing time management skills, which were crucial to succeeding in law school.
And, here are a few excerpts from the wider LawyerSlack survey:
LawyerSlack user:
Subway Sandwich Artist, Family-owned hardware store (janitor/clerk/assistant to the assistant), Wendy's crew member, English department assistant, Law professor's assistant, Intern/student attorney at municipal court in large city, Law school family clinic, Intern/law clerk at small firm, CPA firm's secretary (temp work), Volunteer at local animal advocacy group, Started own law firm.
What helped me prepare for practice: Any customer service related job helped me speak with people. CPA firm taught me to be upfront about money and some basics about taxes (which has become REALLY helpful). Internship at municipal court taught me basics about traffic tickets and other dockets. The law clerk position taught me about divorce discovery. VOLUNTEER! This gets me so much appreciation from my clients when I talk about the work I do at my local animal group that I help. I have had more people tell me they loved that about me than anything else.
People should avoid doing the same job over and over again. Try finding work in different areas of law while in law school. Try retail, food service, and reception work in the in-between or not sure stages of what you want to do. Definitely keep working, though. Those breaks in work history can be brutal.
LawyerSlack user:
Odd jobs for neighbors and family (mowed lawns, shoveled snow, raked leaves, etc.), Worked in a sandwich shop making sandwiches and eventually driving deliveries, Lifeguard at community pool, Took over ownership of sandwich shop (ended up closing), Detailed cars, Worked at two car washes, Dropped out of college and started a restaurant with two friends (sold a year later), Returned to college, Internship at Enterprise Rent A Car, Server at a local restaurant, Marketing Coordinator for the college I attended, Worked on MBA, Marketing Coordinator at university, Seasonal help at Toys R Us, Attended Law School with internships at various government agencies (SEC, Dept. of Ed., City Law Dept.), Summer Associate at the firm I work at now (2 summers), Securities Regulation research assistant, Career Strategies Office Assistant, Internships in University General Counsel's Office and Office of Technology Commercialization, Graduated law school, Attorney at Montgomery McCracken Walker & Rhoads LLP.
My experiences as an entrepreneur (owning restaurants and as a teenager doing odd jobs) best prepared me for the business aspect of practicing law. These positions forced me to think creatively, learn about marketing and business development, and to be self-reliant. Jobs that prepared me the best for the actual practice of law were the SEC Legal Honors Program and working in-house at the university I attended for undergrad and my MBA. Working in government and in-house provided me not only with legal experience outside of the private practice setting, but also taught me what it was like to be the client and what clients look for in outside counsel. I strongly advise those thinking about law school to take jobs in restaurants and retail to learn about customer service and how to work with difficult individuals. It's also humbling to think back to times where I worked for tips or for minimum wage. That being said, I think it is also important to get internships in larger corporations, if possible, to learn what the "real world" is actually like. Too many people are going straight through high school, college, and law school and are coming out with no experience in a corporate environment.
Any job can provide life lessons that are useful as an attorney. Work as much as possible and get various experiences. It'll help grow your network and give you more opportunity to learn.