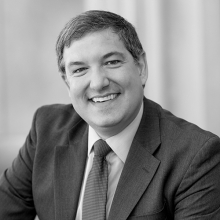 Director of Legal Education and the Legal Profession
As Director of Legal Education and the Legal Profession at IAALS, Zack DeMeola's focus is on improving the delivery of legal services through a variety of projects that focus on the regulation of legal services, legal education, and the intersection of law and technology. DeMeola primarily manages the Unlocking Legal Regulation project, which is promoting a regulatory system better equipped to meet the needs of everyday people and to provide more sustainable practice for lawyers, and the Foundations for Practice project, which is identifying the foundations entry-level lawyers need to practice and steering legal education toward that end. DeMeola's work includes national outreach and advocacy through facilitating collaboration among experts and stakeholders; presenting on IAALS findings and projects; conducting factual, legal, and empirical research and analysis; drafting project papers and articles; and contributing to the development and promotion of recommendations in these areas.
DeMeola joined IAALS in 2017 after having litigated in private practice for six years. He began his legal career in the Litigation & Dispute Resolution, Privacy, and Social Media law groups of Mayer Brown LLP in Los Angeles, where he also served on the summer associate committee. Prior to joining IAALS, DeMeola was an associate at Baker Hostetler LLP's Denver office, where he focused his practice on data breach and privacy issues, class action litigation defense, and complex commercial matters. DeMeola was also dedicated to pro bono work in his legal practice, and twice received awards from Mayer Brown for meeting the law firm's Pro Bono Challenge by billing well over 60 hours a year to pro bono services. His pro bono activities included working with the Alliance for Children's Rights to represent families at adoption hearings in Los Angeles and working alongside the ACLU in Colorado to reach a favorable settlement on behalf of two women who were wrongfully arrested and prosecuted for crimes they did not commit. In 2015, Colorado Law Weekly recognized DeMeola as one of seven Colorado "up and coming lawyers."
DeMeola graduated from William & Mary School of Law in 2010, where he received the George Wythe and Ewell Awards for leadership and service. DeMeola also obtained a master's degree in American Studies from the College of William and Mary, and received his Bachelor of Arts from the University of Pennsylvania.
Additional Info
Memberships & Affiliations
Member, ABA Center for Innovation Governing Council
Member, ABA Center for Professional Responsibility
Member, Colorado Bar Association, Communications & Technology Law Section
Member, Denver Bar Association
Member, American Bar Association
Member, Colorado State Bar
Member, California State Bar
Co-Founder and Organizing Member, Denver Legal Hackers
Recent Speaking Engagements
Presenter, "Are You Ready to Roll With the Changes? The Growing Landscape of Legal Profession Re-Regulation," ABA CLE Webinar, ABA Center for Professional Responsibility, August 2020
Panelist, "Next Gen Talent Development: A Dynamic Approach to Professional Development for Information Professionals in the 21st Century," American Association of Law Libraries 2020 Reimagined Annual Meeting, July 2020
Panelist, "Regulatory Reform to Better Serve the Profession & Public," Chicago Bar Association/Chicago Bar Foundation CLE, July 2020
Panelist, "Legal Empowerment, COVID-19 & Expanding Access to Justice w/Technology," Skoll World Forum, April 2020
Panelist, "How lawyers, courts, law schools, and bar associations can help to close the access to justice gap through innovations in the legal market," Connecticut Bar Association State of the Legal Profession Task Force, March 2020
Panelist, "Reversing Presumptions and Changing Minds: Rethinking Regulation of Legal Services Delivery for the 21st Century," Association of Professional Responsibility Lawyers (APRL) Mid-Year Meeting, February 2020
Panelist and Moderator, "Re-Regulating Access to Justice: How Regulation Reform Can Unlock More Access to Those in Need," Legal Services Corporation (LSC) Innovations in Technology Conference, January 2020
Speaker, "Foundations for Practice: Skills, Competencies, and Characteristics that Comprise the Whole Lawyer," New York State Judicial Institute on Professionalism in the Law Convocation, April 2019
Speaker, "Foundations for Practice & The Future of the Legal Profession," Mitchell Hamline School of Law Board Retreat, October 2018
Speaker, "Foundations for Practice: Becoming the Whole Lawyer," 1L Orientation for University of Houston Law Center, August 2018
External Publications
Coauthor, Foundations for Practice: The "Whole" Lawyer and the Path to Competency for New Lawyers, 87(2) Bar Examiner 17 (Summer 2018).
Editor and Contributing Author, 2016 Class Action Year-End Review, A Summary of Class Action Litigation in 2016, Privacy Section, Baker Hostetler LLP (2017).
Coauthor, Hazards of Cloud Computing: Using e-Discovery to Create Efficiencies in Business and Law, Law Week Colorado (2016).
Guest Editor, The Seventh Circuit Revisits Standing for Data Breach Class Actions, University of Cincinnati Law Review (2016).
Education
MA, American Studies, College of William & Mary
JD, William & Mary School of Law
BA, History and International Relations, University of Pennsylvania