The Past, Present, and Future of IAALS' Groundbreaking Legal Education and Regulation Work
February 25, 2022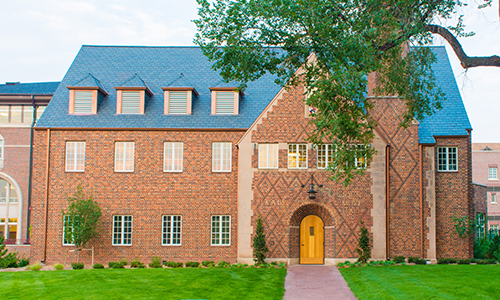 This is my final expert opinion piece as the director of legal education and the legal profession at IAALS. After this month, I will be the new director of strategic initiatives at the Law School Admission Council (LSAC), where in line with LSAC's mission I will contribute to new and innovative ways to educate and train lawyers while opening the profession to include more diversity. Looking back, I'm so proud of what we have accomplished—and excited for what's to come.
When I assumed the role of director of legal education and the legal profession, I had big shoes to fill. Alli Gerkman—my predecessor, mentor, colleague, and friend—was a visionary leader at IAALS and beloved by those who worked with her. Alli worked tirelessly to make justice accessible to all people and did not compromise when the legal profession fell short. Her passion and courage inspired me, and under Alli's tutelage I embraced putting the public interest above all else, in order to make justice accessible to all the people our legal system is supposed to serve. To do so requires nothing short of systemic change: we can no longer be satisfied with tinkering within the boundaries of a framework we inherited—a framework based on assumptions from a bygone era. 
Lofty goals, but Alli taught me and our team to embrace big ideas and to never shy away from a challenge. That means taking a critical view of the traditional framework of the legal profession, a conceptual pipeline that feeds into the delivery of legal services—from entry to law school, law school instruction and curriculum, and the bar exam, all the way to the very regulation of legal services. It means confronting glaring failures along every segment when it comes to equity, fairness, efficiency, accountability, and accessibility. At IAALS, we recognize that not only should we confront major obstacles in the legal profession to adopting modern and improved methods—we have an obligation to directly address systemic inequity, including barriers of entry to and advancement in the profession to Black, Indigenous, and people of color and barriers to access for legal services for most people in the U.S. 
To make our work as relevant as possible, we focused on user-friendly design for presenting research and recommendations, including information that can be engaged in varying levels of complexity and detail. With this vision, we reinvented Foundations for Practice, Alli's groundbreaking project that used the most comprehensive study of its kind to identify the characteristics, professional competencies, and legal skills new lawyers need to succeed. Using the survey data and working with law schools and legal employers, we created the framework for an extensive set of learning outcomes and assessments. In addition Dr. Elizabeth Anderson, our academic analytics advisor, we brought on board Kristen Hulse, our legal education and employment advisor, and Pete Kinser, our strategic design consultant, to develop, design, and ultimately publish a step-by-step instructional design guide and hiring guide, complete with the new Foundations logo and the tools to help readers more easily put it all to use.
We also recognized that by using data-driven hiring practices based on empirical research, we could assess new lawyers' abilities directly, rather than only through the sheen of prestige factors like school attended or class rank. This had major implications for improving diversity in the profession, and we worked directly with law firms to create custom, Foundations-based hiring tools and processes. 
Logan Cornett and Debby Merritt's work on Building a Better Bar has challenged the legal community to examine our licensure practices and honestly evaluate whether the current approach is the most effective and equitable. That work offered for the first time a fair, evidence-based definition of minimum competence, which states are already using to improve the licensing process.
I have been proud to lead Unlocking Legal Regulation, a project dedicated to promoting a justice system that meets the demands of everyday people by clearing regulatory obstacles to innovation, development, and collaboration. These audacious goals had no assurances of success, given the intransigence of the profession towards much-needed reforms, despite an access to justice gap that widens each year. Today, IAALS is a trusted advisor in regulatory reform to state supreme court justices and task forces, state bar leaders, legal services regulators, and innovative legal service professionals. Through careful research, analysis, and the development of an innovative model for regulation, combined with key partnerships and an ability to convene various stakeholders, IAALS contributes to the spread of reform taking place all over the country. Unlocking Legal Regulation also pioneered outreach in a variety of different mediums, through its online Knowledge Center, monthly newsletter, virtual convening series, the Future of Legal Services Speaker Series, and the Redesigning Legal Speaker Series, formed in partnership with the ABA Centers for Professional Responsibility and Innovation, the ABA Standing Committee on Delivery of Legal Services, and Legal Hackers.
There is more work to do, but I know IAALS is up to the task. Our director of research, Logan Cornett, will lead our Foundations-based hiring efforts and continue to be a resource for law schools in developing more rigorous, learning outcomes-based instruction. IAALS is also well positioned to develop the assessments for alternative paths to licensure in the profession, an effort currently being led by Logan in partnership with the State of Oregon. Taken together, these efforts will ensure that newly trained lawyers have what it takes to serve their clients and will widen the pipeline for diversity in our profession. 
In the world of regulatory reform, Logan is also leading the evaluation of outcomes for different reforms, offering the profession answers based in evidence—not assumption. IAALS Manager Michael Houlberg is spearheading an effort to explore reforms targeted at the unauthorized practice of law, starting with developing a model program for independent paraprofessional programs—from proposing a uniform naming convention for such programs and their suggested scope of services, to education, training, and licensing requirements. And Natalie Knowlton, IAALS' director of special projects, will now lead the Unlocking Legal Regulation project, including the work ongoing at IAALS to support the legal services sandbox model now being proposed in states across the U.S. 
Although I will no longer be at IAALS, I will remain a close friend and supporter as I join an organization that not only shares my admiration for IAALS but that is likewise working to improve the legal profession. And as a member of the ABA Center for Innovation Governing Council and in my own time, I am committed to staying involved in regulatory reform and being a positive voice for change. I look forward to working alongside the IAALS team to realize a justice system that works for all people.