To Close the Justice Gap, We Must Look Beyond Lawyers
November 4, 2021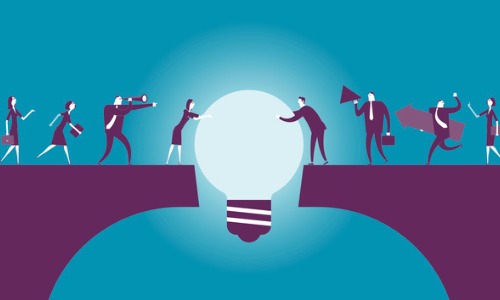 Last week was the twelfth annual National Celebration of Pro Bono, bringing attention to the vast need for affordable (and no-cost) legal services and recognizing the attorneys who step up to provide them. As Americans continue grappling with fallout from the COVID-19 pandemic, including employment, debt-collection, and housing issues, access to legal services is more critical than ever, and the attorneys providing them pro bono should be celebrated.
However, even as we encourage pro bono work and laud those who provide it, we cannot ignore the reality that America is experiencing a colossal justice crisis—one that grows worse every year. The World Justice Project's latest Rule of Law Index indicates that the United States' civil justice system has been in decline since 2017, with our overall ranking falling 15 spots in that time period. Not only that, but our civil justice system scores incredibly low when it comes to discrimination and accessibility, specifically. We may have a great system relative to other developed countries, but these rankings suggest it disproportionately serves a wealthy and white population.
In addition, according to the American Bar Association, as of January 1, 2020, nearly 1,300 counties in the U.S. had less than one lawyer per 1,000 residents. Almost every state has counties with few or no lawyers. (In Colorado alone, half of the state's counties have fewer than 25 attorneys—and three have none at all.) Add to that the mountain of debt new lawyers are often saddled with after law school and the fact that public-service lawyers are paid far less than lawyers in other settings, and the reality is clear. Reliance on more lawyers—and more pro bono services—to address our country's justice crisis is a practical impossibility under the circumstances. 
The good news is that it's not necessary for lawyers to take on the herculean task of closing the justice gap alone. Technology, allied professionals (such as limited licensed paraprofessionals, lay advocates, and court navigators), and other solutions show—and in some cases, have already shown—incredible promise when it comes to addressing unmet legal needs. The American Academy of Arts & Sciences, in its 2020 report Civil Justice for All, states, "Lawyers remain the essential partners in any effort to improve civil justice. But they are not, and cannot be, the sole providers of legal or law-related services. The need is too great to rely exclusively on bar-enrolled lawyers to handle every legal matter. And civil justice advocates of many kinds have already proven their abilities to deliver valuable services, sometimes at strikingly lower costs than lawyers." 
Sociologist Rebecca Sandefur concurs: "One small change in the typical regulation of the practice of law could put a meaningful dent in this massive and to-date intractable problem: allowing people and things that are not lawyers to give legal advice." Yet under many states' current regulatory framework, a lawyer is the only option when it comes to addressing legal issues. 
Many—not all. Fortunately, a number of states are looking beyond lawyers to close the justice gap. And that number is growing.  
Utah is well known in the regulatory-reform community for being the first state in the nation to establish a regulatory sandbox for legal services providers. And two years prior, Utah became just the second state to license paralegals to practice law in limited circumstances. These licensed paralegal practitioners (LPPs) are able to provide legal advice and assistance to clients in debt-collection, eviction, and certain family law cases. Although not authorized to represent clients in court, LPPs can complete and file court documents, advise clients how a court order affects their rights and obligations, representing clients in settlement negotiations. 
And last year, Arizona approved a new category of nonlawyer licensee called legal paraprofessionals (LPs), who are able to draft, sign, and file legal documents; provide advice, opinions, or recommendations; appear before a court or tribunal; and negotiate on behalf of a client. An article in the American Lawyer describes LPs as essentially "the nurse-practitioners of the legal community, doing some of the work that, from an ROI perspective, would make more sense for lower cost employees to handle." 
In addition to LPs, the Arizona Supreme Court has established a pilot program involving licensed legal advocates (LLAs), who began training at the beginning of 2021 "to give limited legal advice on civil matters stemming from domestic violence." These advocates, the first of their kind in the state, have been learning to provide legal advice on topics such as protective orders, divorce, child custody, consumer protection, and housing.
Just this past March, Minnesota launched its own legal paraprofessional pilot project, allowing program participants to provide legal services in landlord–tenant disputes and family law cases. The paraprofessionals will be able to provide advice, make court appearances on behalf of tenants in housing disputes in certain jurisdictions, and be able to appear in court or handle mediations in some family law matters. Colorado, North Carolina, Florida, and Illinois are just some of the additional states looking to equip professionals other than lawyers to join the fight in closing the access-to-justice gap. 
And most recently, in September 2021, the California Paraprofessional Program Working Group (CPPWG) submitted its final report and recommendations that include the recommended scope of services, licensing requirements, and discipline system. The State Bar of California Board of Trustees charged the CPPWG with developing recommendations for the creation of a paraprofessional licensure/certification program to increase access to legal services in California. The proposals include expansive eligible practice areas by recommending collateral criminal; consumer debt; employment and income maintenance; family, children, and custody; and housing. 
Additionally, the CPPWG has recommended that paraprofessionals be allowed to represent their clients in court. These proposals, if approved, would go farther than many other similar programs towards providing more help to people in need—which is why IAALS supports them. (The state bar is seeking public comment on the recommendations from now up to January 12, 2022. Public comments can be submitted here, and IAALS has created a variety of comment templates in support of this innovative, promising program, which we are happy to share upon request. There is no requirement to be a California resident to comment.)
Research from Rebecca Sandefur indicates that consumers are already using nonlawyer providers, and that, when people are experiencing civil justice problems, they often look for legal advice rather than the assistance of lawyers. "In an analysis of live chat streams from two different legal aid websites . . . researchers found that visitors sought legal advice—an analysis of their legal situation and suggestions about how to handle it—about two-fifths of the time. . . . People visiting legal information websites and asking questions through live chat were far less often seeking the services of lawyers." 
More lawyers, then, are not what people need—or are even currently looking for—when it comes to addressing their legal issues. But reforming the rules surrounding who can practice law and give legal advice can make a massive difference in access to justice. Equipping professionals such as paralegals, legal assistants, and even community health workers to provide limited-scope legal advice is a powerful step toward ensuring everyone, regardless of background or finances, can achieve the justice outcomes they desire.  
Indeed, solutions like limited licensed paraprofessional programs are so practically oriented to the problems at hand that they're finding support across the political spectrum. "Legal help—even if limited—can make a huge difference in civil cases," writes John Malcom of the Heritage Foundation, "giving those in need a fair chance at receiving justice, rather than being steamrolled by an arcane legal system and by opponents represented by counsel." Similarly, the former Democratic congressman from Massachusetts Joe Kennedy and Upsolve CEO Rohan Pavuluri recently wrote for CNN, "We can . . . change the system so more people can get the advocates they need . . . [t]hat means exploring training nonprofit professionals to shepherd low-income families through the system when dealing with the kind of legal challenges you don't need a specialized degree to navigate – just as nurse practitioners fill in when doctors aren't necessary."
In this period of unprecedented legal need, access to legal services can no longer be synonymous with access to a lawyer. Evictions, debt collection, and custody issues will still be here in the months and years to come, as well as the host of civil legal issues that will always accompany daily life. And although pro bono efforts are worthwhile and commendable, they cannot supplant the need for a significant change in the way our legal system is regulated—and who is authorized to assist those in need.  
Justice Deno Himonas of the Utah Supreme Court said it best: "We cannot volunteer ourselves across the access-to-justice gap. We have spent billions of dollars trying this approach. It hasn't worked. And hammering away at the problem with the same tools is Einstein's very definition of insanity." It's time for more states to empower other types of capable, skilled professionals to provide much-needed legal services.