Long-Awaited Results from Pilot Project Experimentation around the Country Begin to Filter In
For those who have been awaiting empirical analysis from the pilot project and rules reform experimentation that has been going on around the country, there are two new significant reports from the earliest of the projects.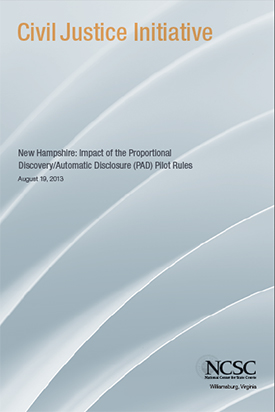 The National Center for State Courts has released its final evaluation of the New Hampshire Proportional Discovery/Automatic Disclosure (PAD) Pilot Project. The evaluation compares case processing outcomes for cases filed in the pilot courts under the PAD Pilot Rules with those for cases filed under the previous rules of civil procedure. The NCSC has supplemented this analysis with interviews of stakeholders who implemented the pilot project, as well as attorneys who litigated cases under the pilot project rules.
The report notes that the results of the Pilot project are mixed. There has not been a statistically significant decrease in the rate at which cases are disposed—a significant goal of the pilot project. Nevertheless, the anecdotal reports from attorneys with pilot project cases suggest the provisions are working and that fact pleading gets the cases moving along faster.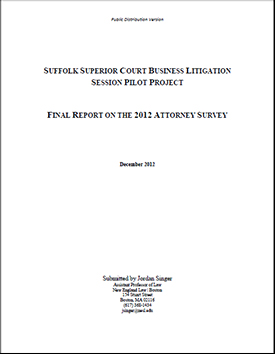 The second report comes from the Massachusetts Business Litigation Session Pilot (BLS) Project. The Final Report on the 2012 Attorney Survey from the Suffolk Superior Court Business Litigation Session Pilot Project reflects that attorney participation in, and satisfaction with, the pilot project were both positive. Despite the program's voluntary nature, few respondents opted out when they had eligible cases. In addition, the pilot program fared well across nearly all key indicators in comparison to both BLS and non-BLS cases.
Most respondents concluded that the pilot was "much better" or "somewhat better" than other BLS cases with respect to the timeliness and cost-effectiveness of discovery, the timeliness of case events, access to a judge to resolve discovery issues, and the cost-effectiveness of case resolution. When compared with non-BLS session cases, a full 80% said the BLS pilot provided a much better or somewhat better overall experience.
Both reports provide helpful insights into state pilot project efforts to address the increasing burden and cost of civil pretrial discovery.