Long-Awaited Results from Utah's Statewide Rule Changes Reflect Positive Impact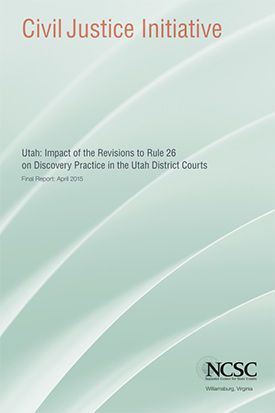 The National Center for State Courts has released its final evaluation of Utah's significant statewide changes to the rules governing disclosures and discovery, implemented in November 2011. The rule changes incorporate proportionality as a key principle governing the scope of discovery, include automatic initial disclosures, assign cases to discovery tiers based on the amount in controversy with corresponding discovery limits, and allow either expert reports or depositions but not both.
The evaluation, published in a report titled Utah: Impact of the Revisions to Rule 26 on Discovery Practice in the Utah District Courts, analyzed: trends in aggregate filings, a comparison of case-level characteristics before and after implementation, surveys of attorneys, and focus groups with judges. The evaluation shows some tier inflation, suggesting that some may be increasing the amount in controversy claimed in the complaint to secure a higher tier and corresponding higher discovery limits. Setting aside debt collection and domestic relations cases, the rule changes were associated with an increased settlement rate. The report concludes that these "differences suggest that the Rule 26 rule changes, particularly the expanded automatic disclosure requirements, are providing litigants with sufficient information about the evidence to engage in more productive settlement negotiations." Across all tiers and case types, cases tended to reach disposition more quickly. Stipulations for extraordinary discovery were filed in only a small minority of cases, contrary to expectations. Discovery disputes tended to occur about four months earlier than before the rule changes, although the surveys and focus groups suggested such disputes were rare following the changes.
The report provides further empirical insight into the successes, and challenges, of state pilot project and rule reform efforts around the country focused on addressing the increasing burden and cost of the civil pretrial process.