Martin J. Katz Receives the 2016 Educating Tomorrow's Lawyers Award
DENVER—The Educating Tomorrow's Lawyers Initiative of IAALS, the Institute for the Advancement of the American Legal System, honored Martin "Marty" J. Katz, former Dean of the University of Denver Sturm College of Law with the 2016 Educating Tomorrow's Lawyers (ETL) Award. Katz served as Dean of Sturm College of Law from 2009 to 2016 and led its development and implementation of a major strategic plan, which included significant initiatives in experiential learning. He is a founding board member of Educating Tomorrow's Lawyers, a national consortium of law schools that are leading efforts to improve legal education. In addition, Katz serves as a member of IAALS' Board of Advisors.
"To Marty I owe the courage to take on Educating Tomorrow's Lawyers in the first place. He is absolutely the personification of everything the award stands for," said IAALS Executive Director and former Colorado Supreme Court Justice Rebecca Love Kourlis. "Marty has vision, he has courage and innovation, he is decisive and humble, and he instills in people the notion that we can do this."
The ETL Award recognizes individuals and organizations that have made significant contributions to innovation in legal education. It is given infrequently and only when there is someone who is very specially deserving. Katz is only the second recipient.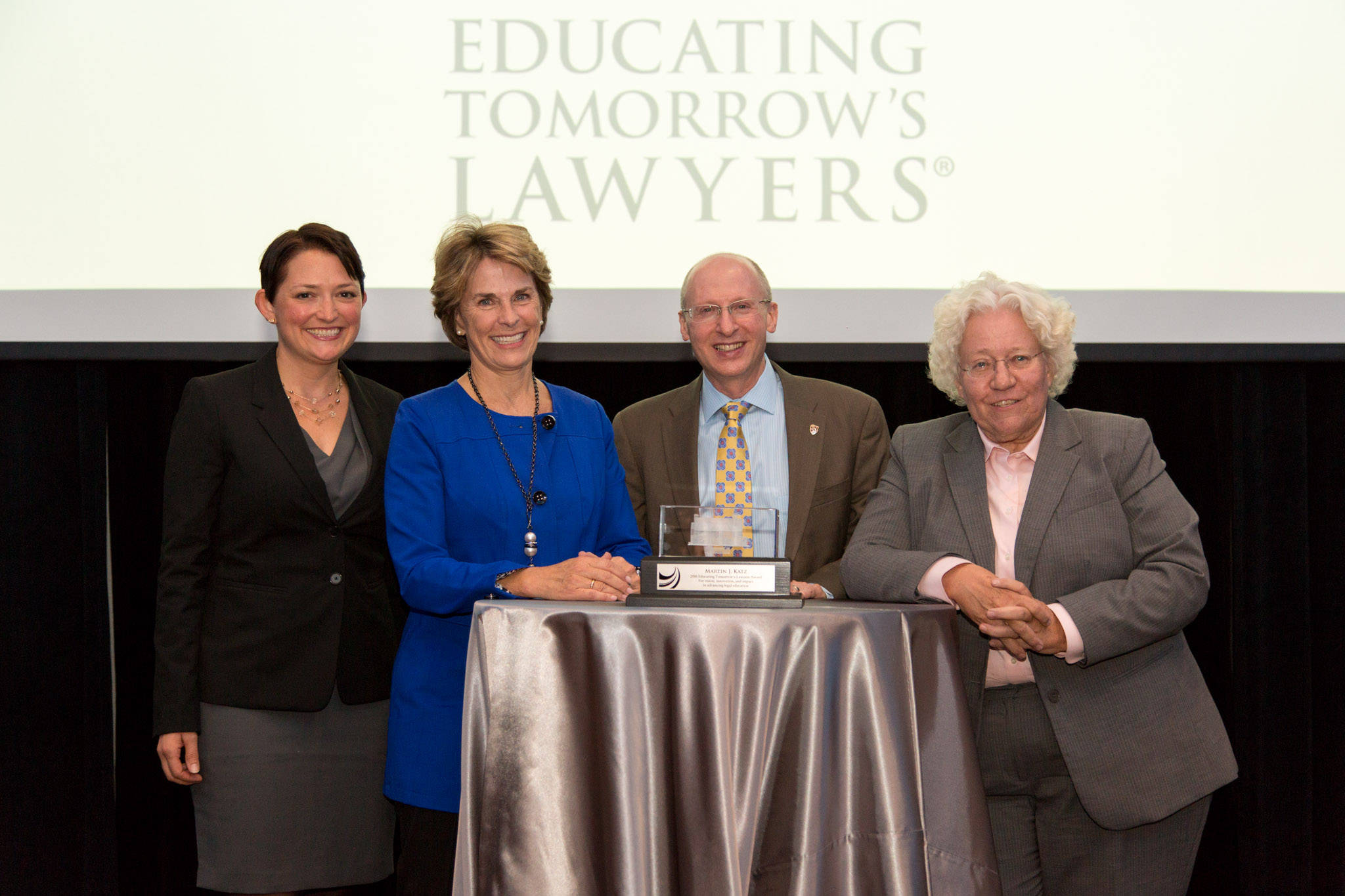 "I am truly honored by this award, as IAALS and ETL represent the best of our profession," said former Dean of the University of Denver Sturm College of Law. "It is hard to imagine a group of people that accomplish more or who are more fun to work with. I feel lucky to be a part of this movement at this time, and to be part of this organization."
Chief Justice Nancy E. Rice of the Colorado Supreme Court presented Katz with the award during a dinner ceremony on Thursday night at The Curtis Hotel in Denver as part of the 5th Annual Educating Tomorrow's Lawyers Conference.
"It was an honor to present Dean Katz with the 2016 Educating Tomorrow's Lawyers Award," said Colorado Supreme Court Chief Justice Nancy Rice. "I have very much enjoyed working with Dean Katz over the years. His contributions to the arena of legal education are vast and he is most deserving of this recognition."
"Marty was a driving force in getting Educating Tomorrow's Lawyers off the ground. He brings leadership, experience, and a deep commitment to collaboration to the field of legal education," said ETL Director Alli Gerkman. "In addition, Marty's been willing to take risks as a legal educator and those risks have paid off in a big way for students and for the legal community they enter as lawyers."
To qualify for the ETL Award recipients will have demonstrated some or all of the following:
Be a recognized leader in the legal education discussion
Have demonstrated a commitment not just to legal education, but also to the broader system that law school graduates serve
Have implemented or facilitated significant and measurable change in legal education
Be actively working to develop new leaders and opportunities for legal education
Have made meaningful contributions to teaching and learning scholarship
At the 2nd Annual Educating Tomorrow's Lawyers Conference, ETL honored Professor William "Bill" Henderson, Indiana University Maurer School of Law, with the Educating Tomorrow's Lawyers Award. Afterward, he delivered a keynote address that focused on the significance legal educators will have in the changes coming to legal education.
# # #