The Modern Family Court Judge: Knowledge, Qualities & Skills for Success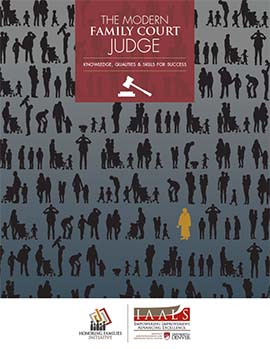 Our nation's family courts—where divorce, separation, and custody matters are decided—are often the only foray with the legal system that many people will have. And, for many states, these family cases make up a significant portion of the courts' work. Judges in these cases deal with a wide range of legal issues that can include bankruptcy, estate planning, contracts, tax, military, immigration, and criminal law. Family court judges also navigate emotional and non-legal issues within the realm of social work, psychology, and problem solving.
"Family court judges make decisions every day that immediately and significantly impact families," said Rebecca Love Kourlis, Executive Director of IAALS and former justice of the Colorado Supreme Court. "Even so, family court judges are often undervalued—even by their peers on the bench. There is insufficient acknowledgement of the broad expertise required to do the job well."
A new Honoring Families Initiative publication, The Modern Family Court Judge, aims to change this supposition by drawing attention to the complex knowledge, qualities, and skills that the modern family court judge needs to be successful in the position—and in rendering judgments for the families who appear in their courtrooms.
The report was developed in partnership with a diverse working group representing the attorney, judge, academic, educator, and court administrator perspectives, along with input from representatives of the National Judicial College and the National Council of Juvenile and Family Court Judges.
Twenty-seven requisite skills, qualities, and areas of knowledge are discussed in the report, including: knowledge of child development and family dynamics; understanding of domestic violence, child maltreatment, substance abuse and addiction, and mental health issues; cultural competence and understanding one's own biases; communication that emphasizes clarity and brevity; honed listening skills; and exercising leadership from the bench.
"We hope this report can spark conversation about the training that must be made available in order to assure that we have highly skilled and dedicated family court judges who are ready to meet the challenges they face in the courtroom every day," said Chief Judge Janice Davidson (Ret.) of the Colorado Court of Appeals. "Both insiders and outsiders must reprioritize and revalue the integral importance of these judges and their need for specialized, sophisticated education."
Click here to download the report: The Modern Family Court Judge: Knowledge, Qualities & Skills for Success.