"Modern Family Court Judge" Republished in Family Court Review
May 5, 2015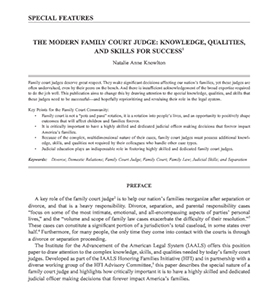 The Modern Family Court Judge: Knowledge, Qualities, and Skills for Success, originally published by the Honoring Families Initiative in October 2014, has been republished in the April 2015 edition of Family Court Review.
The paper focuses on the broad spectrum of legal and non-legal issues family court judges deal with, including social work, psychology, immigration, estate planning, contracts, and criminal law. It also highlights the complex knowledge, qualities, and skills that the modern family court judge needs in order to be successful.
Dive Deeper
Family court judges make significant decisions affecting our nation's families, yet these judges are often undervalued—even by their peers on the bench. And, there is insufficient acknowledgement of the broad expertise required to do the job well. This publication aims to change this by drawing attention to the special knowledge, qualities, and skills that these judges need to be successful.
Read More