National Business Group Endorses O'Connor Plan Components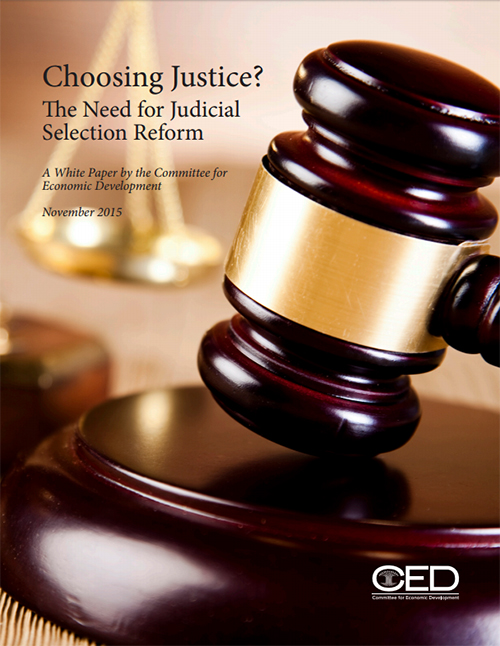 Citing concerns about the erosion of "citizens' and businesses' confidence in the integrity of their judges," a new report from the Committee for Economic Development calls for states to replace judicial elections with elements of the O'Connor Judicial Selection Plan.
Choosing Justice? The Need for Judicial Selection Reform documents the "damaging consequences" of electing judges, particularly in light of the increased politicization of these contests over the last decade. Instead, the Committee for Economic Development (CED) report recommends that states use a commission-based gubernatorial appointment process to choose judges. It also advises states to establish a judicial performance evaluation program to inform the decision as to whether individual judges should be retained in office, though it takes no position on how judges should be reselected.
Taken together, the CED report endorses three of the four components of the O'Connor Judicial Selection Plan, and it cites IAALS' work in buttressing its reform proposals. In addition to IAALS' O'Connor Plan publication, the CED report refers to our research on the structure and operation of judicial nominating commissions around the country and our recommendations for comprehensively and objectively evaluating the on-the-job performance of appellate judges.
Recognizing that judicial selection reform may not be politically feasible in some states, Choosing Justice? goes on to outline a broader agenda that urges states to provide appropriate judicial compensation and adopt effective recusal standards for elected judges.
CED is "a nonprofit, nonpartisan, business-led public policy organization that delivers well-researched analysis and reasoned solutions to our nation's most critical issues." IAALS has partnered with CED on several occasions over the years to advance our shared mission of ensuring impartial, accountable, and transparent courts.