New Online Employment Rate Calculator Provides Transparent Alternative to Law School Rankings (Press Release)
May 2, 2013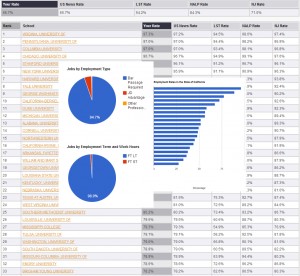 Denver, Colo. – Educating Tomorrow's Lawyers, an initiative of IAALS, the Institute for the Advancement of the American Legal System at the University of Denver, is pleased to announce Law Jobs: By the Numbers™ (http://educatingtomorrowslawyers.du.edu/law-jobs), an interactive online tool that gives prospective law students the most transparent and complete law school employment rate information available.
Countless organizations and publications have developed rankings and listings that purport to give prospective students sufficient information to make educated decisions about where to go to law school.
"In some ways, today's prospective law students have access to more information and data about law schools they're considering than any generation before them," said Rebecca Love Kourlis, Executive Director of IAALS. "But too often, they must rely on another's interpretation of the data and do not have the necessary tools to make it relevant to their decisions."
Enter Law Jobs: By the Numbers™, which empowers prospective students to build, analyze, and compare rates among law schools based on 2011 and 2012 data released by the American Bar Association, all with just a few clicks of a mouse.
"This tool is a natural outgrowth of the law school employment data that is now available," said Alli Gerkman, incoming director of Educating Tomorrow's Lawyers and IAALS' project leader for Law Jobs: By the Numbers™. "It lets the users create their own rates and, because we have made the formulas completely transparent and accessible, it teaches them how different criteria can impact the employment rates reported by schools, publications, and organizations. It's an incredibly powerful and transparent tool for tomorrow's lawyers."
Users can "choose their own" formulas to tailor employment rates and prioritize the jobs that are valuable to them, like whether bar passage is required, whether a position is full time, or whether a job is funded by the law school. Even more detailed weights and factors can be applied before using the formula to compare schools, compare years, and compare how this unique formula stands up against those from leading publications and organizations. Graphic representations of results are also available. Law Jobs: By the Numbers™ was developed in partnership with the University of Denver Sturm College of Law, an Educating Tomorrow's Lawyers Consortium school.
Educating Tomorrow's Lawyers works to align legal education with the needs of an evolving profession by facilitating, evaluating, and promoting law teaching methods designed to produce graduates who are employable and practice-ready; able to meet the needs of their employers, their clients, and society; and prepared to lead and respond to changes in the legal profession throughout their careers.
IAALS, the Institute for the Advancement of the American Legal System at the University of Denver, is a national, independent research center dedicated to continuous improvement of the process and culture of the civil justice system.