New Online Tool Helps Narrow the Access-to-Justice Gap for Self-Represented Litigants
February 15, 2019
The American legal system is in the midst of a transformation. As compared to our historical notions in America of litigants being represented by an attorney in every case, the legal system is now seeing a major increase in the number of litigants representing themselves in court; in some jurisdictions, the number of cases involving a self-represented litigant on one side is over 90 percent. While there are certainly any number of reasons for this change, the effects of this shift have been clear: self-represented litigants (SRLs) are left without the critical assistance they need, leaving them without an equal opportunity to receive justice. However, there are a number of technologies and support systems being developed to close the access to justice gap for SRLs.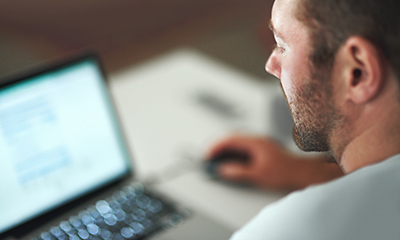 Last month the Center for Computer-Assisted Legal Instruction (CALI) launched a new website service to assist SRLs navigate complex court forms. The main site, a2j.org, hosts a series of "Guided Interviews" that walk SRLs through filling out various court forms using decision trees. At the end of the Guided Interview, the SRL is left with a completed form ready to print and file with the court, either in person or by mail. This new website seeks to close the access to justice gap by not only offering legal assistance to SRLs, but also by reducing the number of people who rely on the court to assist them with simple legal tasks, allowing the courts to be more efficient and less burdened.
CALI's purpose for creating the a2j.org Guided Interview system was to help the growing population of SRLs navigate the court system. CALI recognizes that automated forms will not erase the access to justice gap entirely, but it hopes this project will allow SRLs to more easily understand and complete simple legal tasks on their own with greater success. CALI estimates there are hundreds of these more minor legal processes that can be automated for each state, providing work for law schools, clinics, legal aid organizations, non-profits, and courts.
Although anyone may use these Guided Interviews to complete court forms, authors must register an account for free at a2jauthor.org. This auxiliary site also contains free training videos and occasional live webinar trainings, and all of the Guided Interviews created on a2jauthor.org are published for use on a2j.org to assist anyone that may have any issues, questions, or needs further assistance. Authors can also find more training videos on the A2J Author YouTube channel.
Using technology like the a2j.org website is a small step in ensuring that SRLs and other court users have the resources they need to properly navigate their court case on their own. IAALS has recently recognized the potential for technology, publishing a report titled, "18 Ways Courts can Use Technology to Better Serve their Customers" earlier this year. In our report, we recommend that courts use a technology that allows litigants to complete and file paperwork on their own, much like the a2j.org website. To see how other technologies can be utilized in court, read and download the report here.